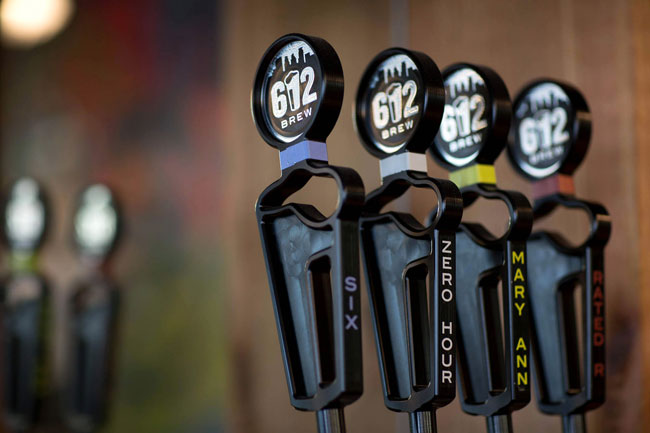 The 612brew taproom and brewery opened last year, along with 16 other new breweries in the state. Jennifer Simonson / MPR News, File
Minnesota's brewery boom continued unabated last year, data from the Minnesota Department of Public Safety show.
The state licensed 17 new breweries in 2013. Beer-making operations popped up all over the Twin Cities, as well as in Duluth, Moorhead, Cold Spring and Goodview. Five breweries and brew pubs were licensed in Minneapolis alone last year. Statewide, there are now more than 60 licensed breweries. That number has tripled in the last five years.
Ryan Petz of Fulton Beer told the Daily Circuit this morning:
"There could be a saturation point out there, but I think we're a long way from it. As long as … the quality of the beer is high, I think there's a lot more growth to be had. … There is a fair debate to be had on how much continued expansion there can be, but I'm fairly confident and we're banking on the fact that craft beer isn't going away anytime soon."
As we've mentioned before, the first heyday of Minnesota brewing came in the 1870s, before a consolidation period in the 1890s. There was an even greater contraction starting in 1914 with the temperance movement, and then Prohibition in 1920. The second boom came in the 1940s and '50s when brewers like Hamm's, Schmitt, Grain Belt and others had a major regional influence. But drinking habits and industry consolidation took their tolls on most brands. We've charted the ebb and flow with some animated maps here.
In our Top 8 facts about Minnesota's brewing history, we hosted a live online chat with Minnesota beer historian Doug Hoverson to dig even deeper to the stories behind the beer boom and busts.
Most of the new breweries today are taking advantage of Minnesota's 2011 "Surly Bill." Nicknamed after the Surly Brewing Co., the measure made it possible for Surly to break ground what it calls a destination brewery in Minneapolis. It allowed small breweries to sell their beer in taprooms — small breweries — and thus become financially viable.
This brewery boom has also meant that some breweries in the earlier vanguard of the craft movement are seeing competitors where none existed before. Summit Brewing is among those.