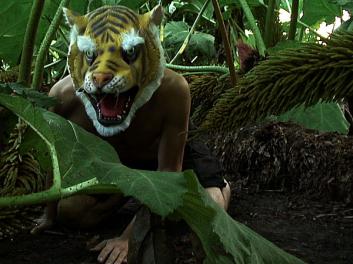 Olive Bieringa doesn't pull her punches when it comes to the local audience.
"People in Minnesota are nice, but I think there is a little anxiety about proximity and intimacy," she says.
Bieringa, (shown here in a previous work) is co-director of the Body Cartography Project will be looking to poke at some of those anxieties with an evening called "Proximity" at the Bell Museum at the U of M's Minneapolis campus tomorrow night. It's the latest Bell Museum Social, which presents an artist in residence in the context of the Bell's natural history displays.
The Bell is describing the social this way: "The evening also will feature a scientific presentation on mammal behavior, a mating-themed tour of the Bell's dioramas, and an animal mask-making competition. For one night, see humans on display as the Bell's mammal collection is brought to life."
Which suits Bieringa perfectly.
"As a dancemaker I'm not really interested in working with traditional dance vocabulary, but really looking at movement and understanding how movement can be generated from an animal reflexive place," she said.
What she'll be doing is a one-on-one piece where she will become an object in amongst the Bell's famed dioramas.
"I've been hanging out with the very dead animals in the Bell Museum's collections," she laughed, "And I'm interested in this thing about how we turn other beings into objects, but I am also interested in behavior: how as humans we are animals and part of our environment and how part of our behavior is culturally learned, but some of it is really biological."
Saying she is fascinated by the way humans have separated themselves from nature, Bieringa has built an enclosed diorama where she will interact with visitors to the social one at a time.
"It really turns me into an object which is more interesting than a dancer just being a dancer.
Of course it also means audience and performer are much closer than usual, messing with the social boundaries which are usually so important to humans.
Bieringa she admits she's not entirely sure how it's going to work. She says it will depend on how each individual reacts – and how long they stick around in the performance space. Despite her concern about shy Minnesotans, she's not worried she'll be left alone all night.
"Oh, people will come in. I'm curious about how long they will stay for," she said. Duration will be up to the individual visitor. "Some people might choose not to come in at all, but other people I might have a hard time getting them out."
Bieringa, who grew up in New Zealand, has been exploring these boundaries for some time. This particular piece developed out of a work she did in France with the Lyon Opera Ballet, but she's been doing works which break down that invisible wall between dancer and audience member for some time. There is one piece she's performed many times on Nicollet in Minneapolis.
"It was a solo called 'Go' and really was just this practice of how I could dance with people on the street, how I could engage them in what I was doing without freaking them out, or making them run away."
She says she learned a lot doing that dance. "Like how to ride that edge with all kinds of people within a public context," she continued.
Bieringa says she is actually in the research phase for a larger piece she'll do next year at the Walker Art Center called "Supernature." It could well be a set of diaramas, each with a different dancer inside. She's also considering using a dog as one of the performers. Or maybe not. No doubt she'll no more after tomorrow night.