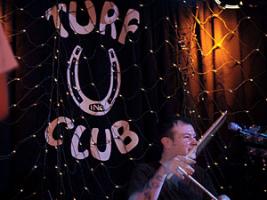 Josh James squeezed us into a tight schedule today. He's had a busy time of it since St Paul's Turf Club closed its doors on New Year's Eve "for construction" and he emerged as the new general manager. He knows people want some answers as to what's going on.
"Oh man, I got a meeting coming in … " he said over the phone, "So I got just a few minutes, so hit me. Hit me as hard as you can."
It's not every day you get an offer like that, but of course it's clarity and information St. Paul rock fans want. The Turf has long been the go-to club in St Paul for its mix of cutting edge bands and local heroes.
A nervous ripple passed through many of the Turf Club faithful when news broke that owner Tom Scanlon let go long-time manager Dave Wiegardt. He's credited as a major guiding force at the club for a decade and a half.
It's a truism of the indie rock fan that while s/he likes to be constantly riding the wave of what's up-to-the-minute and shiny and new, there can be a deep conservatism where it comes to changes in venerated venues.
As someone who has worked behind the bar at the Turf Club for five years James knows this.
"I understand the club," he said. "And I understand what my capabilities are within it, and what I'm not great at. One of the things I'm not great at would be the booking side of the business which is a huge part of this business obviously, it being a club."
James says the first thing he did on Saturday was have lunch with Ryan O'Rourke, one of the Turf's bookers, to rehire him. He's also working on contacting booker Christie Hunt about a job too. He said they'll be given pretty much a free hand to do bookings through the next couple of months.
"It's a lot of little changes that'll add up to big changes right away," James said. "I have some ideas about what the bar needs to do to really make money right away."
One of the first things will be hours of opening. He anticipates meeting a projected re-opening date of January 11, but under the new set-up the club will be closed on Sundays and Mondays.
"And Tuesdays through Saturday the bar will open at 5 or 6, I haven't decided yet," he said. He says this is the plan in the short term and the bar may well open on Sundays and Mondays if he can work it out in a way that makes sense.
"It's in essence a rock and roll club," James said. "And it needs to stay that way. It has to be fun and bring people out and have a party."
He said the Turf Club's eclecticism has always been great appeal of working there.
"Sometimes you'll have a noise-rock band, plus a hip-hop band, plus an indie-rock band, plus an alt-country band, all on one bill all on one night, and I love that diversity. It's a blast."
So why is the change in management necessary?
"The change was coming," he said, choosing his words carefully. "The bar was going to close. I can't really comment on all of that. I don't really know all the ins and outs of it. I can tell you that I run a, as a manager, a really lean and tight crew of people who are really dedicated to service and quality and that's what I am focusing on for the first six months."
Josh James predicts patrons will see few physical changes to the Turf Club when it re-opens.
"It'll feel very familiar," he said. He says there will be some change in staff, but not much, and he has been touched by the way the music community in the Twin Cities has reached out to welcome him in his new role in the last couple of days.
"It's been very humbling, to be honest with you," he said. He says he's grateful for the response. "Even down to the people who worked here and who were unceremoniously let go, everyone has been so positive that it's been fantastic."
And then he went off to that next meeting.