Greg Yolen is proud that, now in its third year, the primary aim of the Minneapolis Underground Film Festival is unchanged.
"We have basically one goal," he says, "Which is to inspire people to make movies. If you make a movie, it will be shown."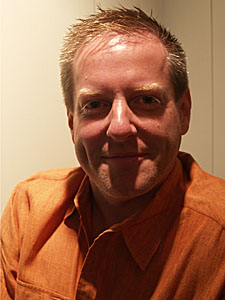 As the MUFF's founder and director it simplifies things in some ways.
"Just like in previous years, the festival just programs itself," he laughs.
But Yolen says there's a serious point here too.
"There are so many ways to get movies. Film festivals kind of forgot what started them in the first place, to show work that just can't be seen anyplace else."
The Festival which launches tomorrow at the Minneapolis College of Art and Design has once again attracted a wide range and large number of movies.
There are 62 films, a lot of them are shorts, including "The Minneapolis project." It includes profiles and portraits of places around the community. (You can watch a trailer here.)
But the MUFF offers features and documentaries from all over.
There's even "Macumba" a film by Yolen himself. He says it came about following a moment of post-festival exhaustion last year.
"I am yelling at filmmakers saying 'Here I am, I've got this environment for you to show a film at and I said, 'Wait a minute, I'm a filmmaker why am I not stepping up to the plate too?"
So he bought a $250 HD camera on Craigslist and convinced a friend to go with him to Costa Rica, telling him they were going to make a movie.
"It turned into a documentary and there are fires and murders, and it just gets out of control. It's a really interesting film about what happens when young Americans go to a foreign country and mess with black magic. It just gets insane."
Fires and murders? Black magic? I press for details but Yolen doesn't want to reveal any more about his 17 minute film.
"Have you ever had the feeing 'I wish I had a camera to capture all this crazy stuff that's going on? Well I actually did," he teases.
There is one new thing at the MUFF this year- the entry judged best film by the audience wins seven days use of a soundstage for the filmmakers. It's a pretty sweet deal. Yolen is already making jokes about a recount taking months.
At least I think he is joking….