With all its twists, turns, and unusual angles, navigating the Walker Art Center in Minneapolis is never straightforward. It's a deliberate choice in the design.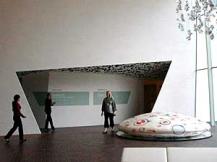 However for the last 18 months or so the museum has been exploring how to make visiting a more pleasant, or at least accessible experience for patrons with additional challenges.
Courtney Gerber, who sports the title of 'assistant director of education, tour programs' says the Walker has been using a two year grant from the Met Life Foundation to explore whether its tours and hands-on art-making experiences are accessible to anyone who wants to use them.
Gerber says the grant is intended for programmatic improvements more than physical change, but the Walker knows that for people to feel accepted and welcomed in the building they need to be physically comfortable the moment they walk in.
So the museum bought lightweight but strong gallery stools which people can use to rest as they move through, or can even carry them along.
"When you are in our galleries there tends to be an echo," Gerber says. "So we were able to purchase assisted-listening devices for those who are hard of hearing and just need a little extra amplification."
This particular development will likely interest attendees at the latest in a series of meetings which occurs Saturday. People with hearing difficulties are invited to an open house to learn what the Walker has done so far, but also to make suggestions.
"The goal is really we want to offer people what they want, not what we think they want," Gerber says. "So their feedback is invaluable."
The event is free, but patrons need to register in advance to help with planning. The event includes a light lunch, and a tour of the recently opened Yves Klein exhibit.
Gerber says she's been very happy with the project, and at how it's been embraced by the members of the public already involved.
"I think often when we are working on a project we forget to open up the lines of communication and ask the people who it is most readily going to effect, and just by inviting people in for conversation, the reception has been outstanding," she says.
One particular success has been "Contemporary Journeys," a program the Walker developed for people with Alzheimers and their caregivers. Gerber says she believes it's provided a new and relaxing experience.
"So there is somewhere where they can go and talk about something other than their disease and really be an active participant in life in a community," she says. "Just seeing the positive effects that an art museum can have on the lives of people living with that particular disease really, really blew me away. It was enlightening."
When I pointed out that many able-bodied people find the new Walker Annex a challenge, Gerber acknowledges the subject has come up at every session. She says they are looking at that issue too.
"At the moment because we don't have funding to physically change the building, we are working hard with people oh how we can better articulate paths through the building."
Ultimately, Gerber says, the Walker will have an accessibility guide, and she will develop curricula which she plans to share with other museums.
"Accessible design is good for everyone," she says.