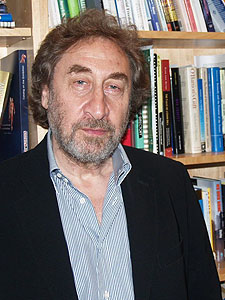 The 2010 Twin Cities Jewish Book Fair is underway, with a series of readings by a broad range of authors.
Some of them are quite familiar (Rabbi Kushner and Nicole Krause for two,) but others you might know less well.
That was the case for many people when Howard Jacobson rolled through town almost three years ago for the 2007 edition of the Fair. Jacobson is a raconteur and a broadcaster, in addition to his scribbling, and we had a fascinating chat about his book "Kalooki Nights."
He recommended that as a radio person, I should do myself a favor and read Mario Vargas Llosa's "Aunt Julia and the Screenwriter," which I did. And he was right in his recommendation, as Mr Vargas Llosa's recent Nobel Prize for literature would seem to underline.
It came as no real surprise the other day when the Booker Prize Committee awarded Jacobson the 2010 award for his novel "The Finkler Question."
Of course it also makes you scurry back to this year's TC Jewish Book Fair list to see who might be the next winner they're quietly bringing in.
You can hear Jacobson talking about how he began writing "Kalooki Nights" after being challenged by an Orthodox man who recognized him as a writer here, about his characters here and reaction to the book here.