"Everything that Public Art St Paul and I wanted to do, we did!" Wing Young Huie told me the other day.
But the Minneapolis-based photographer admits the full impact of "The University Avenue Project," his display of hundreds of photographs along University Avenue in St Paul, is still swirling around in his head.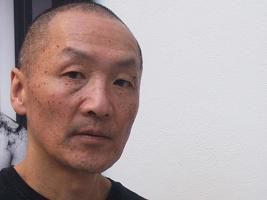 "It's not easy to step back and see it, and think about all the reactions," he said. "So many things have happened, so many interactions, so many comments. You really can't qualify and quantify it."
It's been six months since Huie and his staff of volunteers began placing the pictures along University. The show will wrap up next Sunday, on Halloween, but there will be a number of events between now and then to allow people a last chance to take it in.
While the photographs stretch out along several miles of University Avenue, from the State Capitol in the East to the Minneapolis border in the west, much of Huie's attention in recent weeks has focused on the so-called "Project(ion) Site" near University and Hamline, where there have been screenings five nights a week of the photographs set to the music of local bands.
"We've probably had 6000 people who have been in that site. All different kinds of weather. Sometimes it's just a handful of people. A lot of couples – a great place to take a date, especially younger couples," Huie laughed.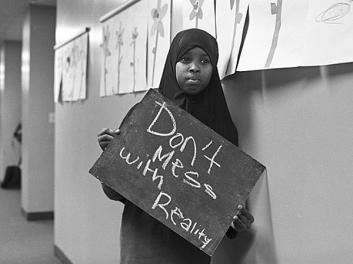 Huie says he has seen many interactions he believes wouldn't have happened without the projection site. He says while he tried not to have expectations about what would happen there, he was concerned about the potential for vandalism, and what he called "other incidences" as people gathered. However none of his fears were realized.
"It's really been a peaceful place," he said. "People from all walks of life come to the space. People from outside the neighborhood. People from inside the neighborhood – people who come on a regular basis."
It's been a place for people to come and talk about the photographs, which are displayed along University with no signage or explanation except at the projection site. Huie heard how some neighbors came to learn about the place where they live, others brought relatives and friends who were scared to come into what they believed was a bad neighborhood.
As well as the screenings the site hosted "Wednesdays with Wing" where people could come and talk about the show and what it made them think about. He also hosted a monthly cabaret which featured live performances again from local artists.
A few weeks back a couple of hundred people turned up at the Wednesday night show including about a hundred students from the nearby Hubbs Center which was where Huie took some of the first photos for the project. Several people who are in photographs in the show turned up that night.
"And I invited people to come up to the microphone just to talk a little about yourself," Huie said. "And there were several students, one who had only been learning English for a couple of months. And she stood up and talked about what it was like for her to be in St Paul and learn English and her hopes for the future. And it was just beautiful."
While things are wrapping up, that doesn't mean Huie is slowing down. There will be a last Wednesday with Wing in a couple of days, a final cabaret starting at 5pm on Saturday night, and then the final night on Sunday.
"We will have closing ceremony on Halloween," Huie said. "I think it will be very simple. We will invite people just to view the projection one last time and maybe share thoughts about the project, how they interacted or were impacted by the project."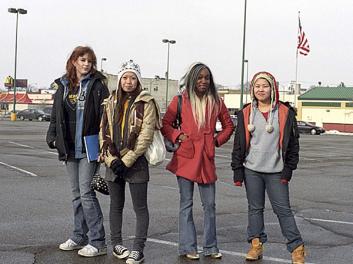 The pictures will come down from the windows along the Avenue soon after although some of the larger installations will stay up indefinitely. There will also be an auction in December to raise funds to help cover the costs of the project.
Meanwhile Huie is working on several travelling shows.
One which combines work from several of his exhibits over the years is about to go to China. It will start in Beijing, then go to four other cities.
He is also looking at ways of creating a travelling version of the University Avenue project, or maybe even several different versions which would be available on a sliding scale for different communities. He's even considering a portable projection site with an inflatable screen, hooked up to generators to power the projectors so communities could recreate the slideshow experience.
Huie is also on final negotiations with the Weisman Art Museum at the University of Minnesota for a new project photographing the cultures, and subcultures of the U and surrounding neighborhoods. He expects to start work in November, and is looking to keep working with some of the ideas from the University project, including the chalk boards he used to display responses to questions he asked, or sometimes his subjects asked one another.
"One of the things I am interested in is this idea of 'the Other.' Everybody has a different idea of who 'the Other' is," he says.
But that's next month. He still has to finish October, and the University Avenue Project itself.
Overall Wing Young Huie is happy.
"Just to pull it off and get everything up," he said. "For a small non-profit to take on such a big project as this, it was exhilarating."