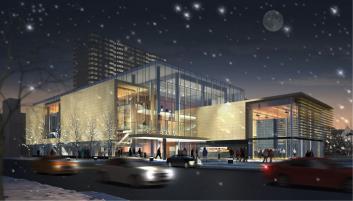 Architects rendering of the proposed expansion of Orchestra Hall in Minneapolis (Image courtesy Minnesota Orchestra)
The Minnesota Orchestra announced today that a $5 million donation from Target Corporation means it now has enough to fund the $40 million dollar expansion and renovation of Orchestra Hall in Minneapolis.
"It quite clearly shows that we have an exciting viable project that is very clearly going ahead," Orchestra President and CEO Michael Henson said today.
The State of Minnesota contributed $14 million in bonding money, and the Orchestra has raised another $29 million in private funds.
The fundraising will continue as the Orchestra works to complete its larger $100 million capital campaign. It's already pulled in $82 million towards that goal.
Henson says the Orchestra and the architects are still working on a myriad of details, so they have not announced a groundbreaking date yet, but he says the project is on track to re-open in June of 2013.
Orchestra Hall will have to close for a year while the work is done, and one of the challenges facing the organization is maintaining a full subscription series for the hometown audience in other halls around the Twin Cities.
Incidently Target now has naming rights on the new lobby and the expanded terraces outside the renovated hall.