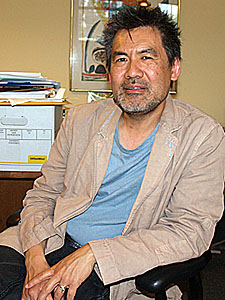 After you finish Chris Roberts' excellent piece about Prince's relationship with his hometown, you might want to spend a little time with David Henry Hwang's wonderful post about the joys (and challenges) of working with his purple idol.
Hwang, (right) a playwright who has his own deep-seated relationship with the Twin Cities, and in particular Theater Mu, became a Prince fan upon hearing "Dirty Mind" in the early 80's.
He was overjoyed when he learned Prince had gone to see a productions of his play "M. Butterfly" on Broadway, but he was not prepared for being approached about collaborating on a musical.
It didn't work out quite as he had expected, but it's a fascinating tale of how talents can, if not merge, at least ricochet in intriguing ways.