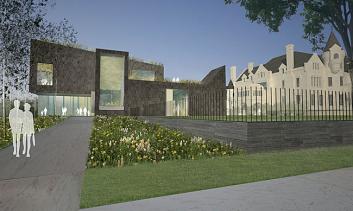 The American Swedish Institute is throwing a celebratory bash to unveil its new extension (above) this morning.
The Nelson Cultural Center, as the new 34,000 square foot facility will be known, will include an art gallery, crafts workshop, an event space for more than 200, a café and museum shop. The extension will connect to the existing mansion which was home to the Institute's founder Swan J. Turnblad. The extension is due to be completed in mid-2012.
We'll have more details after this morning's announcement, but here is a peek at the renderings by HGA Architects and Engineers.The building is intended to reflect Swedish design and landscaping.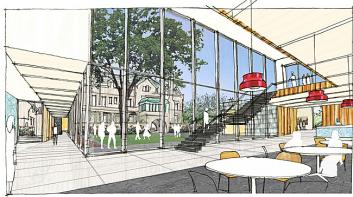 Today's event will also serve as an opportunity to announce the recent gifts in the $21.5 million capital campaign to pay for the facility. The ASI has raised some $11 million so far.
More than 74,000 people visit the ASI each year, and it boast members in 46 states and 5 other countries.