Schubert Club Executive Director Kathleen van Begen has a huge smile on her face today.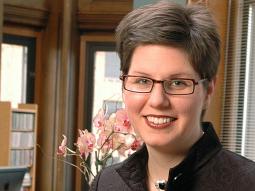 The Club just announces its 2010-2011 International Artists Series, and it's a doozey.
It opens in October with the return of soprano Renee Fleming.
"She loves the Ordway," says van Bergen. "She loves singing on that stage."
This will be Fleming's third visit to the Schubert Club, and will include the music of Mahler in the program. This is in part because some letters by the composer owned by the Schubert were displayed at the Lincoln Center this year which Fleming saw.
Another big show follows in November when Alison Balsom comes to the Ordway to perform the first ever trumpet recital in the Schubert Club's history.
"We've been looking high and low about what can you do in the 128th (season,) that's fresh and exciting and a first. Ukulele would have been one route to go," she laughs.
But instead the trumpet beckoned as did the chance to have Balsom, who is taking the brass world by storm.
"The range and sound of the trumpet is really compelling, engaging, and we look forward to our first trumpet recital," van Bergen says.
In January Yuja Wang will perform on piano, followed by violinist Leila Josefowicz accompanied by Tamara Stefanovich on piano in March.
Van Bergen is also really excited by the final concert of the season where soprano Genia Kühmeier, mezzo-soprano Bernarda Fink, tenor Michael Schade, and bass-baritone Thomas Quasthoff, will be joined on stage by pianists Malcolm Martineau, and Justus Zeyen for a program of Schumann and Brahms, including Brahms' rarely programmed Liebeslieder Waltzes. It's unusual to have this number of top performers together for one concert.
"It's only being performed in four places in North America," van Bergen says. "We are tickled, just really delighted. If you are going to present Liebeslieder Waltzes, we really believe you should have the highest quality of artists, and it should be a defining moment for all of us. Personally, I have been attending concerts for decades and I have never heard them live. So this is something I am really looking forward to and I hope that many share in that experience."
Van Bergen also points out that the Schubert Club tickets are remarkably affordable particularly compared with venues on the coasts.
"Just another good reason to live in the Twin Cities," she says.
And then she smiles again.
You can listen to our conversation here