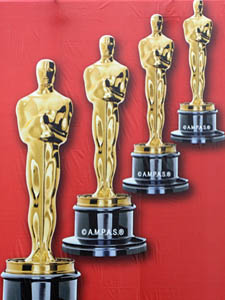 Two of the 10 nominees for best picture have heavy Minnesota connections: "A Serious Man" and "Up." The former is the Coen Brothers' homage to life (although they claim not their own) in 1960's St Louis Park, and the latter is Bloomington native Pete Docter's animated exploration of old age, balloons, and to hear him tell it, Midwestern sensibilities.
Now of course we will get into our regular debate as to whether Minnesota can really claim people who have not lived here for years, but let's leave that aside for a while.
Both "A Serious Man" and "Up" are little cinematic gems and if the nominations get a few more people to see them it's no bad thing.
Of course, with 10 nominees, and with "Avatar" and "The Hurt Locker" in the mix, both of them have to be considered back in the pack, despite their great merits.
The same sadly is true for "Coraline," up for the best animated feature award, which is based on the gloriously creepy novella by Neil Gaiman, who tells people he lives in Minneapolis in part I believe to avoid having to explain he's really living in Wisconsin near the Twin Cities. "Coraline" was one of the first in the new wave of 3D movies which really uses the extra dimension to enhance the storyline. However it's up against Pixar's "Up," Wes Anderson's "Fantastic Mr. Fox," Disney's "The Princess and the Frog" and "The Secret of Kells."
A similar writerly connection links Minnesota and "Up in the Air" which is based on a novel written Walter Kirn who hails from Stillwater. (H/T Curtis Wenzel.)
One other local connection is St Paul native Joe Chisholm who masterminded the clandestine operation needed to get images of a dolphin slaughter which is chronicled in the controversial film "The Cove," which is nominated in the best documentary category.
In the same category "Food Inc." an exploration of the impact of factory farming on the health of consumers, was producer by Minneapolis native Bill Pohlad.
Update: Lucinda Winter at the Minnesota Film and Television Board points out another two we should mention:
1. ART DIRECTION, MAKE-UP, COSTUME DESIGN (3): YOUNG VICTORIA (Apparition is the US distributor, Bill Pohlad is a partner with Bob Berney in Apparition)
2. COSTUME DESIGN – BRIGHT STAR (Apparition is distributor, Bill Pohlad is a partner with Bob Berney in Apparition)
The Movie Maven and I were looking for other vague Minnesota connections. She came up with the fact that "The Hurt Locker" star Jeremy Renner was in "North Country" the Charlize Theron vehicle about sexual harrassment on the Iron Range. And of course "Crazy Heart" writer/director Scott Cooper, says he learned the importance of story while working on "Bill's Gun Shop" in the Twin Cities.
What is remarkable is the number of people from these films who have been on the MPR airwaves over the past months. We've had Peter Docter, members of the cast from "A Serious Man," and "Up in the Air" writer/director Jason Reitman.
We had the animators of "The Princess and the Frog" and of course we have had Neil Gaiman on, talking about "Coraline."
We had writer director Oren Moverman talking about "The Messenger," which snagged a best original screenplay nomination (and a best supporting actor nod for Woody Harrelson.) We had writer/director Armando Iannucci talking about "In the Loop" which is nominated for Best Adapted Screenplay. There is also an interview with Christophe Barratier director of "Paris 36" which scored a nomination for best song.
And then in the longest Minnesota stretch ever, we should mention Helen Mirren, who is nominated for Best Actress for "The Last Station" She has a tattoo on her thumb, which she recently declared she hates because as she told Good Morning America "I decided to get a tattoo because it was the most shocking thing I could think of doing. Now I'm utterly disgusted and shocked because it's become completely mainstream, which is unacceptable to me."
And where did she get that tattoo? Many years ago while travelling through Minnesota.