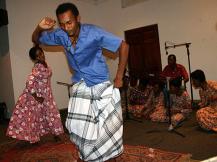 In December we ran a feature on a long ignored group of musicians in Sri Lanka.
The Kaffirs are descendents of Africans brought over by Portuguese colonists hundreds of years before. Producer Jesse Hardman who told us the story, also left a pile of CD's of the show he arranged for the group in Colombo for us to give away.
All but five have now gone. If you would like one please email me. First come, first served.