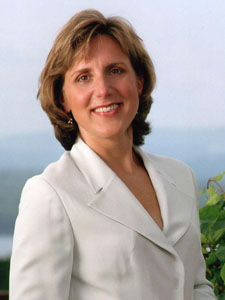 Dawn Upshaw says she's excited to be invited back.
Given the acclaim which has surrounded the world famous soprano, there seems to have been little double that the Saint Paul Chamber Orchestra would be very keen to retain her services, but Upshaw says she is looking forward to working more with the SPCO.
"These musicians really respond to text and to singers," she said. "I think if you were to speak with them they would tell you they especially love working with singers."
Upshaw was speaking shortly after the SPCO announced it had extended Upshaw's contract through the 2012-2013 season. She says she has enjoyed working regularly with the SPCO over the first three years of her tenure.
"My musical world is kind of built around my collaborations and so this is just one which happens to be with a whole group rather than one individual, and is as inspiring to me," she said.
As in the first three seasons Upshaw will continue to commission a new work each year to perform with the SPCO as a world premiere. The next piece will be with composer Gabriela Frank, to be performed in 2011.
"There is something very much of the earth about her music," Upshaw said. She worked with Frank at the Weill Music Institute composer-singer workshop in 2004. "And I hear life stories in her music."
Upshaw says she knows what Frank is working on for the commission, but says as it may well change before the performance she's reluctant to share details at present. Upshaw has presented a broad variety of works during her tenure so far, including the commissions by Osvaldo Golijov, Maria Schneider, and Alberto Iglesias.
"I think of music sometimes like food," she laughed. "Food for my soul. But you know we all love different kinds of food, and I am also interested in trying new foods. So I like to discover, either on my own, but usually through someone else's suggestion, new musical voices and ideas that are expressing new things in a different way."
Along with Upshaw the SPCO's 2010-2011 roster of Artistic Partners includes Roberto Abbado, Edo de Waart, Christian Zacharias and Thomas Zehetmair, each who bring their own international acclaim to St Paul.