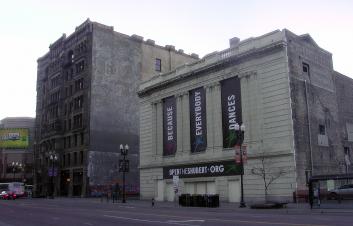 The state's self-proclaimed flagship center for dance has a new leader. After breaking ground just two weeks ago, the Minnesota Shubert Center has named Mary McColl its new executive director.
McColl, who was trained in ballet, is former Vice President and General Manager of the Ordway Center for Performing Arts. She also served as V.P. for Operations at the St. Paul Chamber Orchestra. Most recently she was director of labor relations for the Broadway League in New York. McColl is looking forward to assuming her new role.
"As a center for dance that integrates affordable space to work, teach, rehearse and perform, the Minnesota Shubert Center has the potential to help lift the Twin Cities dance community to new heights of visibility and excellence," said McColl. "It is a dream opportunity for me to help launch this new institution and join staff, board, and partners in pursuit of a transformative vision."
McColl replaces Colin Hamilton, who will move to other projects as vice president for Artspace Projects. Artspace is the Minneapolis organization overseeing the Shubert restoration.
Today's announcement also marks the return of Jeff Bartlett to Twin Cities dance. The Minnesota Shubert Center has chosen Bartlett to be its dance community liaison. In that role, he will implement a plan funded by Dance USA to engage the dance community and support audience expansion efforts.
Bartlett is founding artistic director of the Southern Theater and a much loved figure in the local dance scene. Bartlett had to resign in 2008 when the Southern's board instituted a change in leadership, a move that generated controversy in the dance community.