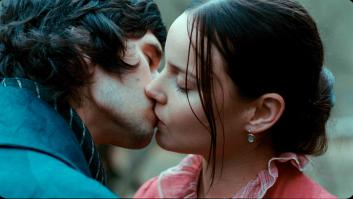 It may seem odd to group Jane Campion's "Bright Star" (left,) Diablo Cody's "Jennifer's Body" and Meryl Streep's "Theater of War" in one bag,
However due to a quirk of scheduling Twin Cities film fans have a choice of these three very different examinations of the female experience.
"Bright Star" is Oscar winner Campion's telling of the doomed love affair between romantic poet John Keats and Fanny Brawne. "Jennifer's Body" is former Twin Citian Diablo Cody's take on a demonically-possessed high schooler. "Theater of War" is a documentary about The Public Theater in New York remounting of Berthold Brecht's "Mother Courage and her Children" with Streep in the title role.
Each will attract a different audience, and they each succeed on differing extents.
"Bright Star" is a lyrical chaste story of love within the strictures of early 19th century England. Abbie Cornish as the smart and curious Fanny struggles mightily to be with her love, but is thwarted by her family and by Keats friend and patron Charles Brown. Campion explores the harsh realities of female life, even within the relatively genteel confines of the Brawne family. It's a very compelling, and it has to be said sexy film.
Diablo Cody has indictated she wants to put a female stamp on horror films and the bloody and smart alec "Jennifer's Body" gets some way down that road. Megan Fox plays the titular role, although the story is told by her side kick Needy Lesnicky ('Mama Mia's Amanda Seyfried.) Jennifer becomes possessed by a cannibalistic vampire demon when a grisly satanic ritual performed by a creepy visiting rock band goes wrong. She's more than a little ticked of course and begins chewing her way through the male population. The film has a few good lines, but is never reaches the level of scariness or campiness that a horror flick needs to succeed.
"Theater of War" takes the intellectual route, dissecting Brecht, Tony Kushners translation of "Mother Courage" and the Public Theater production. The drama is a challenging piece of work, and Streep's portrayal is engrossing. If you loved the Kushner Festival you'll love this too.