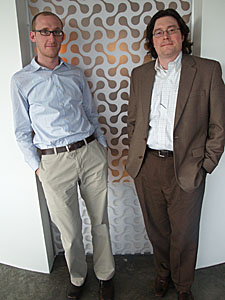 It's been four months, but Jonas Schaefer (left, with colleague Josh Pepper on right) is still pretty pumped about the first Minneapolis St Paul Pecha Kucha Night.
Some 350 people turned up at Intermedia Arts for the first one in April and the event sold out.
"The reception was amazing. People really got into it," Schaefer says. Pecha Kucha is a community event where presenters are allowed to show 20 slides as part of a presentation on whatever topic they want. The twist is each slide is only shown for 20 seconds and then the next one pops up. Presentations can only last for six minutes and 40 seconds total. The original Pecha Kucha was in Japan, but the event has spread like wildfire all over the world.
Schaefer says the first evening had a great variety of presentations ranging from map making, urban photography, bringing youth into the wilderness, film making, bike freedom, architecture, and innovative approaches to problem solving.
Schaefer and his co-producer Josh Pepper needed to do a little problem solving of their own. There were so many people they filled the auditorium and some audience members had to watch over a video link from the gallery next door.
Schaefer says it's clear they needed a bigger venue "We realized that right away," he says. So the next event on Wednesday August 12th will be at the Theater Lab in the Warehouse District of Minneapolis. The fun begins at 7pm.
They have 12 people lined up with presentations on jewelry, theoretical physics, futurism, and soar car racing among other things.
They also learned they could do with some help. "We are just two guys that wanted to do something. So there is a lot we learned." So they have expanded and Megan Baxter and Rachel Rydbeck have been added to the Pecha Kucha Night MSP Team.
They are also already looking for future venues. "The event at its core is about new ideas." And that includes cool locations
"We found a local airport that has a hanger that we thought would be a great place for an event," says Schaefer. It looks like the third Pecha Kucha MSP Night will be held there, although Schaefer says they are always open to suggestions.
"The idea is every time you come, you get something new. You get something different, something interesting, and that it doesn't feel like you have done this before."