The contrast between two soldiers in the news today couldn't be more stark. One is dead; one is alive.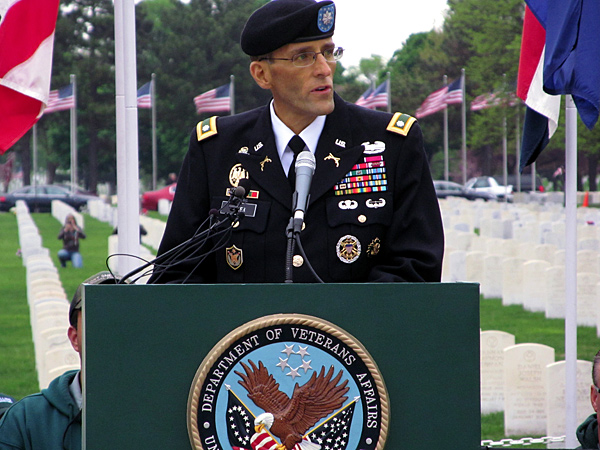 Mark Weber barely made it to his 40s. Cancer finally claimed him yesterday, a few years after he was diagnosed. The Army veteran went public with his diagnosis and taught those who knew him how to die. He wrote a book, Tell My Sons, to leave his life's lessons behind. He spoke at Fort Snelling's Memorial Day service just a few weeks ago.
"Being a good citizen on this score demands seeking perspective, which requires you to look where you don't ordinarily look," Weber said. "Read what you don't ordinarily read. And listen to those who you do not ordinarily listen to. And I mean really listen."
"He thinks everything is hilarious," KARE's Jana Shortal said, introducing her story on him on Father's day (See video).
His family announced his death on his Caring Bridge site last evening, under the heading, "Wow, What a Ride!"
Mark passed away surrounded by family this afternoon at 4:14 PM (or 1614 in military time as Mark would say). Mark's wish to die at home, embraced by love, and a view of his beloved garden was granted to him.

Mark often quoted Mark Frost – "Life is not a journey to the grave with the intention of arriving safely in a pretty and well-preserved body. But rather, to skid in broadside, thoroughly used up, totally worn out, and loudly proclaiming …. WOW what a ride!" Well Mark, mission accomplished.

The family appreciates your respect for their privacy during this time of bereavement.

We will post more details with regards to visitation and funeral service within the next few days.

"I have fought the good fight, I have finished the race, I have kept the faith." – 2 Timothy 4:7
He was to be on MPR's Daily Circuit last week, but called to say he was too ill. But Mark Weber, who agreed to the interview last month, made sure Tom Weber (no relation) got his interview. He had taped one "just in case."
"We talk about death as if it's some evil creature," he told All Things Considered host Tom Crann in January. "I'm pretty sure it's not personal, since we're all going. Life is unfair. It is tragic in too many ways. Now what are you going to do about it? You can't get away from that equation."

Michael Karkoc is still alive, having lived an apparently comfortable life in Minnesota. And he's not talking. The Associated Press found out the now-94-year-old was a Nazi. He had published a Ukrainian-language memoir acknowledging he was head of a Nazi unit that exterminated villages, the AP reports this morning.
One of Karkoc's men, Vasyl Malazhenski, told Soviet investigators that in 1944 the unit was directed to "liquidate all the residents" of the village of Chlaniow in a reprisal attack for the killing of a German SS officer, though he did not say who gave the order.

"It was all like a trance: setting the fires, the shooting, the destroying," Malazhenski recalled, according to the 1967 statement found by the AP in the archives of Warsaw's state-run Institute of National Remembrance, which investigates and prosecutes German and Soviet crimes on Poles during and after World War II.

"Later, when we were passing in file through the destroyed village," Malazhenski said, "I could see the dead bodies of the killed residents: men, women, children."
Karkoc lied to get into the United States, and now time is running out to do anything about it.

What might Elias Clayton, Elmer Jackson and Isaac McGhie think if they returned to Duluth today?
Spoken-word artist Mark Pogorelskin wondered that yesterday on the site of the spot where the three circus workers were lynched 93 years ago this weekend.
"They might be disappointed with how little has changed," Pogorelskin told the Duluth News Tribune.
A girl had been raped in town and a mob broke into the police station to exact their revenge. The 2002 MPR documentary, Postcard From a Lynching takes it from there.
"The people who were outside were saying, 'Just give us somebody,' and that first somebody was a young man named Isaac McGhie, who was just thrown from the cell to the hands of the mob who took him out front, brought him up the hill here one block, where he was the first one hanged," Fedo recalls.

"This is where they were brought to be hanged. I don't know why they would have been brought up the hill instead of down the hill. But it may have been because there was a young man perched on top of this pole, and they just assumed, 'He's already there, we'll take them up there, we'll have this kid tie a knot on the lamppost above the street, and take care of business that way,'" says Fedo.

A priest named William Powers pushed his way to the front of the crowd, and climbed part way up the lamppost. The priest managed to quiet the crowd for a few moments. He begged them to stop. But members of the mob pulled Rev. Powers down, and hoisted Isaac McGhie up.

Then the mob dragged Elmer Jackson and Elias Clayton out of the jail, and up the hill to the street light. When all three men were hanging, battered and dead, the crowd parted so a photographer could capture the scene.
3) PRISON THE SESAME STREET WAY
Think growing up today isn't different than when you were a kid? Sesame Street is tackling the issue of parents in prison.
"Half of families say nothing," University of Wisconsin psychologist Julie Poehlmann says in a press release. "Another third say the parent is in the hospital or something like that. They don't know how to talk about it. "The more our society can recognize the need to talk about this issue, the less stigmatized these kids will be."
There's no shortage of kids who might be interested in the initiative. Almost 3 million of them in the U.S. have a parent in prison.
4) GOING TO THE GAME? LEAVE EVERYTHING HOME
What's the difference between getting on an airline and going to an NFL football game? It's a trick question; there's no difference, judging by the NFL's new security policy in the wake of the Boston Marathon bombing.
The NFL strongly encourages fans to not bring any type of bags, but outlined today what is permissible. Beginning with preseason games, fans will be able to carry the following style and size bag, package, or container at stadium plaza areas, stadium gates, or when approaching queue lines of fans awaiting entry into the stadium:

Bags that are clear plastic, vinyl or PVC and do not exceed 12" x 6" x 12." (Official NFL team logo clear plastic tote bags are available through club merchandise outlets or at nflshop.com), or
One-gallon clear plastic freezer bag (Ziploc bag or similar).
Small clutch bags, approximately the size of a hand, with or without a handle or strap can be taken into the stadium with one of the clear plastic bag options.
An exception will be made for medically necessary items after proper inspection at a gate designated for this purpose.

Prohibited items include, but are not limited to: purses larger than a clutch bag, coolers, briefcases, backpacks, fanny packs, cinch bags, seat cushions, luggage of any kind, computer bags and camera bags or any bag larger than the permissible size.
Here's the full release on the new policy.
5) THE INVENTION WE'VE BEEN WAITING FOR
Bike Walk Week is coming to a close in Minnesota. We're going to need to change the name soon, apparently, to Bike Walk Fly Week. A flying bike has had its maiden flight in Prague.

Bonus I: How many languages can you speak? This kid speaks 17.
If you want to add a second, consider the Nagaajiwanaang language camp in Sawyer, MN., this weekend.
Bonus II: Lobsterman Philip Tuttle is alive to tell the tale. He went out fishing the other day, his boat hit some rocks and sank, tossing him into the water. He swam to shore. Philip Tuttle is 90.
Bonus III: It was a bad night last night for racists who just can't figure out why an 11 year old boy was allowed to sing the National Anthem, what with him having an Hispanic ancestry and all. He was the subject of racist comments after singing the anthem at an NBA playoff game this week. So San Antonio responded the way you'd like to see a community respond. They brought the kid back last night for an encore. And sent a loud message to the racists.
http://youtu.be/f2c4YXGNjx8
By the way, today is Flag Day. Here's 13 things you need to know.
TODAY'S QUESTION
Do you agree with President Obama's decision to arm Syrian rebels?
WHAT WE'RE DOING
Daily Circuit (9-12 p.m.) – First hour: Friday Roundtable with open topics.
Second hour: Evaluating the organ-donation process.
Third hour: Bernedia Johnson, Minneapolis superintendent of schools.
MPR News Presents (12-1 pm): Art Heroes with Marianne Combs.
Science Friday (1-2 p.m.) – It weighs only three pounds, but it's been called the most complicated object in the universe: the brain. Hear how scientists are mapping consciousness.
All Things Considered (3-6:30 p.m.) – The Grange has been an American institution for generations of farmers. But the organizations membership rolls have been shrinking and its looking to young new members to carry the torch. Among them: organic-farming, green activists. And theyve been ruffling some feathers among traditional Grangers. NPR considers the future of the Grange.