Making the punishment fit the crime, where trivia matters, there's something about a horse, making water with snow angels, and for the love of love.

1) MAKING THE PUNISHMENT FIT THE CRIME
It's no stretch to declare that there can be no greater loss for a person than the loss of a child, which had to have made the decision on what to do with Jonathan L. Markle, 41, a difficult one for prosecutors.
Yesterday, he was charged with criminal vehicular homicide.
Markle is the driver of the car that sank into Lake Minnetonka a few weeks ago, killing his baby daughter, Tabitha.
These are the kind of stories that the talk-show crowd can turn into an absolute. "People must be held accountable," they say. Or "there's nothing you can do to punish him that's worse than losing a child." Both of these statements are probably true.
And yet, it's very easy to feel conflicted no matter which you're inclined to embrace.
Markle's wife and Markle's two-year-old daughter also escaped. With a conviction, they lose a husband and a father. Who benefits from putting him in prison? Is a proper punishment for losing a child, not being able to watch another grow up?
And yet, people keep driving on the ice and putting their children at risk and somehow the message needs to get through. "A young child died through the recklessness of the father," the prosecutor said yesterday. That, obviously, shouldn't happen.
It must have been difficult for prosecutors. It's going to be agonizing for a jury.
What would you do if you were on the jury?
They take trivia pretty seriously in St. Cloud. Like salmon returning to their spawning grounds, alumni of St. Cloud State return to join the rest of the campus — and the city — for the traditional weekend marathon of trivia. Trivia Weekend started in 1980 as a broadcast battle on KVSC Radio (disclaimer: I'm a member.) between 25 dorm teams.
Now there are dozens of teams, some are located in other parts of the country, and apparently, nobody sleeps.
This is Trivia Weekend. Here's a great (like there's any other kind) Boyd Huppert story from six years ago on the effort.
3) THERE'S SOMETHING ABOUT A HORSE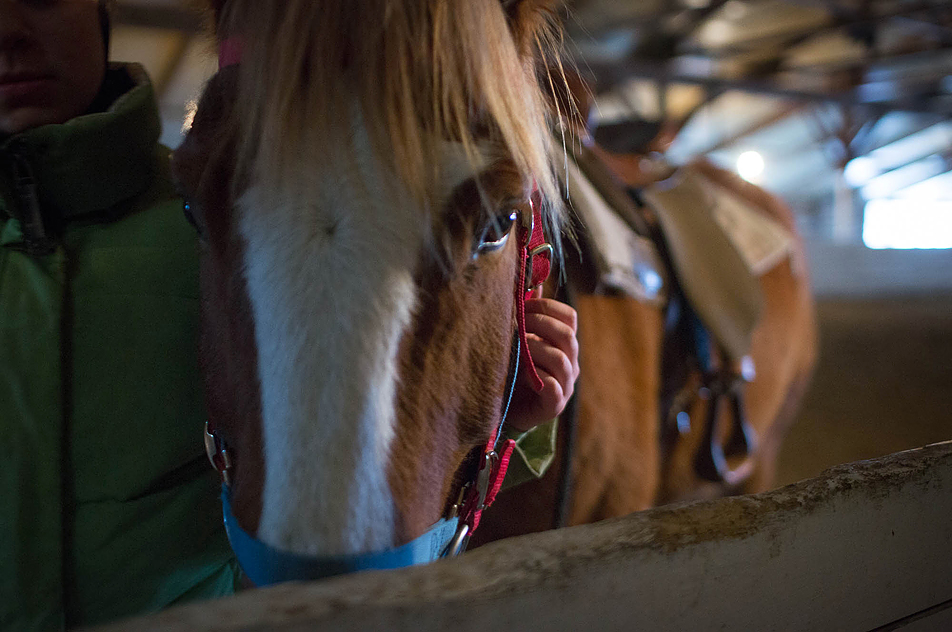 MPR's Sasha Aslanian has today's "must-read" item with her feature on the Heartland Girls' Ranch in Benson, where horses are helping girls, including those who were forced into prostitution. Minnesota, she reports, is seeing the light and beginning to see the kids as victims, not delinquents.
What does the horse do? They're going to be better than some people.
Girls who have difficulty trusting people will find that horses have a startling honesty. Horses respond to a rider's body language, sometimes sparking a girl's insight more quickly than a therapist could.

For example, Kinnel gave a girl who had run away a horse that no one could catch. She said the girl made the connection.

"We can ask them how it feels to be on the other side," Kinnell said. "Now they're the person having to deal with that behavior. And it gives them some empathy for the people in their lives and kind of how their behavior has affected others."
Horses are great at healing. There are plenty of horse camps to help young people who are physically disabled. And, in Waverly, our friends at Bus 52 reported last summer, they can even help heal the female veteran.
4) MAKING WATER WITH SNOW ANGELS
You're on notice, Bismarck. Your snow angel record is going down. Maybe.
Tomorrow at 11 at the University of Minnesota Duluth, organizers of a campaign to provide clean drinking water to people in Ethiopia will try to set a record for the most number of snow angels, the Duluth News Tribune reports.
The goal is 8,962 set on the North Dakota state Capitol grounds in 2007.
Visit NBCNews.com for breaking news, world news, and news about the economy
Clifford and Mildred Bjerke of Dilworth have been married for 76 years. Last year, President Obama sent them a letter commemorating their longevity.
"She's a devoted wife … and she's good-looking, too," Clifford told the Fargo Forum in an interview for a story that was to run around Valentine's Day next week. "And I think she likes me, too."
Mildred died yesterday.
Bonus I: These sorts of things put the old exploding volcano science experiment to shame.
Bonus II: Did someone say "science?"
TODAY'S QUESTION
The Obama administration's use of drones to kill terror suspects has attracted harsh criticism in recent days and contributed to the controversy around the nomination of John Brennan to head the CIA. Some in government are calling for more transparency and accountability – for example, by subjecting drone strikes to a legal review process, or by shifting responsibility for them from the CIA to the military. Today's Question: Are transparency and accountability important values in the fight against terrorism?
WHAT WE'RE DOING
Daily Circuit (9-12 p.m.) – First hour: National Geographic photographer James Balog and polar explorer Will Steger talk about Balog's Sundance award winning film Chasing Ice. (Rebroadcast)
Second hour: Jeanne Marie Laskas, author of "Hidden America: From Coal Miners to Cowboys, an Extraordinary Exploration of the Unseen People Who Make This Country Work." (Rebroadcast)
Third hour: The Okee Dokee Brothers. Their album, "Can You Canoe," is up for a Grammy Award for best children's album. (Rebroadcast)
MPR News Presents (12-1 pm): Black History Month program: A "Voices of Minnesota" interview with Nellie Stone Johnson and an MPR documentary "Postcard from a Lynching" (1920 Duluth).
Science Friday (1-2 p.m.) – Your phone knows where you are. Facebook knows who your friends are, and what you had for dinner. But how much of that information do you control?
All Things Considered (3-6:30 p.m.) – During Fashion Week in New York, NPR considers how the life of fashion designers has changed.