The Dow Jones 30 Industrials hit the 13,000 market today, and most experts say traders don't care.
So why do we see these people plastered on newspapers and websites if they don't care?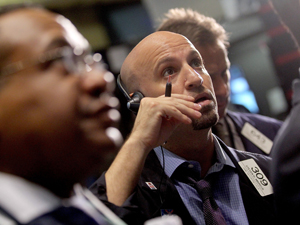 "One reason that the Dow thousand-point barriers generally don't move the market is that Wall Street traders really don't pay much attention to the index," CNBCs Jeff Cox says. "The public uses the Dow as a guideline both to market and economic health, but traders focus far more on the Standard & Poor's 500, which has a much broader reach than the Dow and its 30 components."
It's also 13 points below last year's closing high.
Cox says 13,000 might lure people back to the stock market. If so, that might be just in time to watch it fall, The Street says:
Market participants are likely take some profits when the index reaches this psychological level. The last time the index closed above 13,000 was in May of 2008. Analysts have been speculating since January that equities are due to cool off after a steep run up this year. The 13,000 level might provide a key opportunity for investors to take money off the table.
Smart Money disagrees.
But it's not just that market prices are nearly back to pre-crisis levels, say advisers — the market climate has also started to improve. "In the last few years, the market has been so much more news-driven, we've had short-term wild and random volatility that makes the markets much more difficult to anticipate," says Mike McGervey, the president and founder of McGervey Wealth Management. In 2012, that volatility has dropped significantly, with daily market moves being much smaller. McGervey says his technical analysis of recent chart patterns suggests that if the Dow does break through 13,000, stocks will likely post gains in the next quarter, too.
How did the Dow get to 13,000? A confluence of good news, of course, writes Jill Schlesinger on MarketWatch:
The answer is three-fold: (1) Greece/Europe didn't collapse, (2) the economic data in the U.S. has improved and (3) central banks across the world have turned on the spigots to make money abundant.
That might also indicate the problem. Many a stock market rally, buoyed by encouraging news from Greece, has succumbed to a subsequent piece of bad news from Greece. And oil prices are shooting up, threatening to stall a recovery.
If there's one thing people who follow these things closely know how to do, it's worry. But stocks started this week just 1% from their all-time high, a confirmation that the experts were right who preach ignoring the Dow and worrying about Joe Mauer's health instead.