Should tenure be eliminated, is it warm in here, the gift of Anthony Shadid, Canada's mandatory religion course, three smart things about boogers.

1) SHOULD TENURE BE ELIMINATED?
The school seniority debate has certainly been visible in political circles, especially considering the Minnesota House passed a bill yesterday eliminating teacher tenure, but less so among teachers, at least in the public eye. Today, we'd like to hear, anonymously if need be, from people who teach. Few of us are actually in school anymore so we don't really know how this issue of seniority plays out. All we have, really, our own experiences when we were in school.
In my case, Rita and Mary Mullahy and Lillian Taylor — three typical graying English teachers — were the treasures you'd want to keep around. Mr. Provenzani, the industrial arts teacher, wasn't. We've all got our Miss Taylors and Mr. Provenznis, but what's the real story?
And if school administrations start whacking teachers, how will we know they're getting the right ones? Schools and the boards that run them are notoriously political and secretive. We learned that recently in South Washington County when a board fired a school superintendent everyone — at least publicly — claims was the perfect guy for the job, then cited privacy rules for not explaining their action. It's also hardly a secret in Minnesota that teacher unions and the DFL are tightly connected, a relationship that thrusts politics into the picture by its very existence.
Come forward, teachers. Tell me about the people with whom you work. Do the older teachers bring something to the table the younger ones don't? What is it? What's lost when teachers are fired from the bottom? Is the debate leading to tension in schools between the young and old?
2) IS IT WARM IN HERE?
The climate change debate — the political debate — has been simmering again this week with the leaks of internal memos from a group detailing its budget and fundraising. The Associated Press last evening confirmed that the documents are accurate, despite denials from The Heartland Institute, which contends a document is fake which details a K-12 curriculum that is designed to question the science of climate change. The man who created the curriculum, who is not a climate scientist, acknowledged to the AP that the description of his intentions are accurate.
"My goal is to help them teach one of the greatest scientific debates in history," David Wojick said. "This means teaching both sides of the science, more science, not less."

Five government and university climate scientists contacted said they were most disturbed by Wojick's project, fearing the teaching would be more propaganda rooted in politics than peer-reviewed science.
Meanwhile, the BBC reports scientist have reached tropical glaciers in the mountains of the Congo and were shocked by what they found. The glaciers, scientists said, will likely be gone by 2025. See the photos here.
Closer to home, the Fargo Forum has images of the region's unwinter. And a guest writer on Trail Baboon says a little snow last week reminded Minnesotans of what they might not realize they're missing.
MPR'S Paul Huttner reports on his Updraft blog today that the planet has just recorded its 323rd consecutive month above the 20th century average. He will be hosting MPR's Midday this morning at 11:06.
3) THE GIFT OF ANTHONY SHADID
Anthony Shadid, the New York Times reporter who's been covering the Arab revolution, and is perhaps the best-known foreign reporter this country has, died yesterday when he suffered an asthma attack in Syria. He dodged bullets for a living, and it was his own body and some horses that finally got him.
The assignment in Syria, which Mr. Shadid arranged through a network of smugglers, was fraught with dangers, not the least of which was discovery by the pro-government authorities in Syria. The journey into the country required both Mr. Shadid and Mr. Hicks to travel at night to a mountainous border area in Turkey adjoining Syria's Idlib Province, where the demarcation line is a barbed-wire fence. Mr. Hicks said they squeezed through the fence's lower portion by pulling the wires apart, and guides on horseback met them on the other side. It was on that first night, Mr. Hicks said, that Mr. Shadid suffered an initial bout of asthma, apparently set off by an allergy to the horses, but he recovered after resting.

On the way out a week later, however, Mr. Shadid suffered a more severe attack — again apparently set off by proximity to the horses of the guides, Mr. Hicks said, as they were walking toward the border. Short of breath, Mr. Shadid leaned against a rock with both hands.

"I stood next to him and asked if he was O.K., and then he collapsed," Mr. Hicks said. "He was not conscious and his breathing was very faint and very shallow." After a few minutes, he said, "I could see he was no longer breathing."
In its tribute today, the Times has some of his best video work from the Middle East.
Last April, Shadid was on MPR's Midmorning, telling the story of his abduction as a hostage in Libya for seven days.
Shadid wasn't all about the Middle East. Last year he wrote about his love of the Green Bay Packers.
I've worked as a foreign correspondent for 15 years, and I feel like the Packers were there on every assignment, from Cairo to Islamabad. On my way back from Egypt, after landing at JFK in New York, I listened in disbelief to the radio in the taxi as Terrell Owens snagged the game-winning pass with three seconds left. Three. In a brutal winter in Kabul, I logged on to the slowest Internet connection in the history of the Afghan capital to see that we had lost to the St. Louis Rams, 45-17. Next to a wood-burning stove, still in my sleeping bag, I asked myself whether Favre really could have thrown six picks. Six.

Budgetary constraints aside, I listened to every game in Baghdad. When I won the Pulitzer Prize in 2004, my editor at the Post, Phil Bennett, gave me front-row tickets to a game with the Washington Redskins. Forget the Pulitzer! I'm going to the game! I could have written another book if I had somehow managed not to spend countless hours reading about the Packers online. My wife, Nada, born abroad and having never heard the word touchdown, much less Packers, can now recite the starting lineup. (Well, part of it.)
4) CANADA'S MANDATORY RELIGION COURSE
In Quebec today, Canada's Supreme Court will rule on a challenge to the country's 2008 rule that requires elementary and high school students to take classes covering all major faiths found in Quebec culture. Is he teaching the history and existence of religion the same as teaching religion?
Comments on a CBC story frame the issue:
Atheism is also not mentioned as a valid religious belief system. "Ethics and Religious Culture" is a not so subtle way of saying only those who believe in a few chosen versions of god can be considered ethical, when actually the opposite is the case. Unless one considers burning women at the stake because they're believed to be witches, throwing acid in the faces of young school girls and flying planes into buildings is somehow ethical.

This course is nothing more than state funded indoctrination to a moral construct that states quite clearly that religious study and ethics go hand in hand. Ethics has a place in education, religion most certainly does not.
…and…
This course teaches children that people have different religious views, and that you can get along with them.

I couldn't care less if people are religious at home, I only take issue when people attempt to use religion as their excuse for passing different laws and trying to be treated preferrentially under the secular law we have, and force it down people's throats.

To claim their children will be harmed by being taught to get along with people is just sad, and quite pathetic.
Related: David Brooks takes "Linsanity" where it blessedly wasn't: into the realm of religion.
Lin says in that interview that he has learned not to obsess about stats and championships. He continues, "I'm not working hard and practicing day in and day out so that I can please other people. My audience is God. … The right way to play is not for others and not for myself, but for God. I still don't fully understand what that means; I struggle with these things every game, every day. I'm still learning to be selfless and submit myself to God and give up my game to Him."

The odds are that Lin will never figure it out because the two moral universes are not reconcilable. Our best teacher on these matters is Joseph Soloveitchik, the great Jewish theologian. In his essays "The Lonely Man of Faith" and "Majesty and Humility" he argues that people have two natures. First, there is "Adam the First," the part of us that creates, discovers, competes and is involved in building the world. Then, there is "Adam the Second," the spiritual individual who is awed and humbled by the universe as a spectator and a worshipper.
5) BINGO!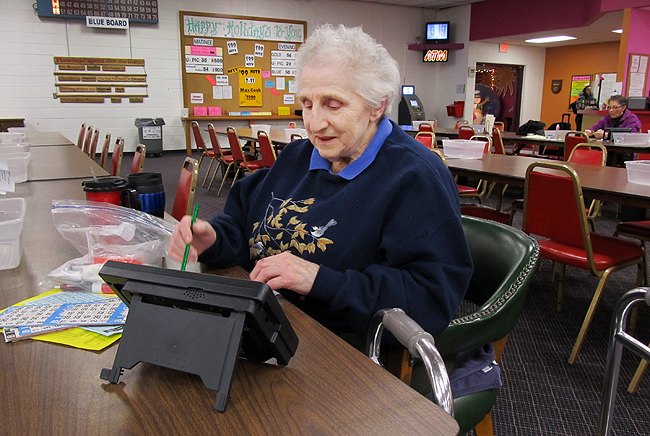 MPR storyteller Dan Olson provides a marvelous snapshot of the life of a bingo caller and player in Rochester. "People get mad at you. They call you names and want to throw daubers at you if you don't call their numbers," and 82-year-old former caller reveals.
Bonus I: Last Saturday night, a member of the Timberwolves "Hoop Troop" acrobatic basketball squad wore a headcam. Don't try this at home, kids.
Bonus II: Three smart things about boogers (Wired)
TODAY'S QUESTION
A civic group called Walk Denver is working to improve that city's friendliness toward pedestrians. It wants Denver to qualify as a "Walk Friendly Community," a status that Minneapolis already has. Today's Question: What's it like to walk where you live?
WHAT WE'RE DOING
Midmorning (9-11 a.m.) – First hour: How to listen for racism on the campaign trail.
Second hour: Friday roundtable. Guests: Guest: Patricia Lopez, political editor for the Star Tribune; : Peter Hutchinson, former Minneapolis schools superintendent and Independence Party candidate for governor; Ed Bok Lee, author and poet.
Midday (11 a.m. – 1 p.m.) – First hour: Sven Sundgaard of KARE11
Second hour: America Abroad documentary on future of Korea. Ray Suarez hosts.
Science Friday (1-3 p.m.) – First hour: How desert military bases could
become huge solar energy suppliers.
Second hour: The story of concrete Plus, a look at plans to build two nuclear reactors in the United States.
All Things Considered (3-6:30 p.m.) – It's been more than four decades since Leonard Cohen released his first record. His work has influenced generations of musicians and that trend continues with his new album. Singer-songwriters weigh in on Cohen's latest work and how he has shaped their music.