Today will be the last 5×8 for a week. I'm taking next week off.
Drive-In Movie from Nancy Breslin on Vimeo.
1) DISAPPEARING AMERICANA
Single-digit temperatures in Minnesota? Let's talk summer. Let's talk sitting in a big field or in our cars watching movies, occasionally swatting the maverick mosquito. That's living, my friends. But probably not for long.
The BBC today tackles the very poignant question: Are drive-ins long for the world? Probably not, for all the reasons everyone knows and one most people don't: 35mm film is dying. Hollywood studios are eager to eliminate the cost of manufacturing and shipping the 35mm film prints that have traditionally been the mainstay of the industry, the BBC says, and sending hard drives with digital versions of the movies is cheaper and the quality is better. But the drive-ins have to spend money on new projection equipment, and many can't afford it.
That's great news for Walmart.
"I think it is a big loss to the American people. Everywhere, you see theatres winding down and people are just aghast at what is going on, but they cannot do anything about it," says Steve Wilson, who owns — owned — a drive-in in Indiana.
In Pennsylvania, a non-profit drive-in has just started a capital campaign to make the conversion. The same thing is happening in Tampa. Say, there's an idea. If drive-ins are art and part of our culture, should they get Legacy funds from taxpayers?
Minnesota, fortunately, still has a few drive-ins like the SkyVu in Warren, the Verne in Luverne, the Long in Long Prairie, the Vali Hi in Lake Elmo and the Cottage View in Cottage Grove.
In the 1960s there were over 4,000 drive-in movie theaters in the United States. Today there are 371.
2) ABORTION AND MENTAL HEALTH
Does abortion adversely affect a woman's mental health? No, a new study says, but an unplanned pregnancy does. "It could be that these women have a mental health problem before the pregnancy. On the other hand, it could be the unwanted pregnancy that's causing the problem," professor Tim Kendall said. The study was coordinated by the U.K.'s National Collaborating Centre for Mental Health.
The Associated Press reports:
They concluded the best predictor of whether women would have a psychiatric problem after an abortion was whether they had mental health issues before getting pregnant. Kendall said it was possible women with mental health problems after an unwanted pregnancy were at greater risk of getting pregnant or that an unwanted pregnancy worsened their mental health.
3) THE ART OF GIVING BACK
Next May, Brian Bender will get his law degree from William Mitchell in Saint Paul. It wasn't easy. When he was a first year law student, his wife died on their daughter's first birthday. The law school gave him a year's leave to care for his daughter, and WCCO reported that it cared for Brian when he returned. So Bender has set up a scholarship fund to benefit other students.
4) BURNING SWEDE HOLLOW
Today's required listening is Cathy Wurzer's interview about the day — 55 years ago Sunday — Swede Hollow went up in flames. The St. Paul City Health Department had declared the immigrant community's homes contaminated and uninhabitable and burned them down.
You can find images of Swede Hollow's demise here.
5) MAKING SENSE OF FLYING
SENSE OF FLYING from Goovinn on Vimeo.
Bonus: From xkcd.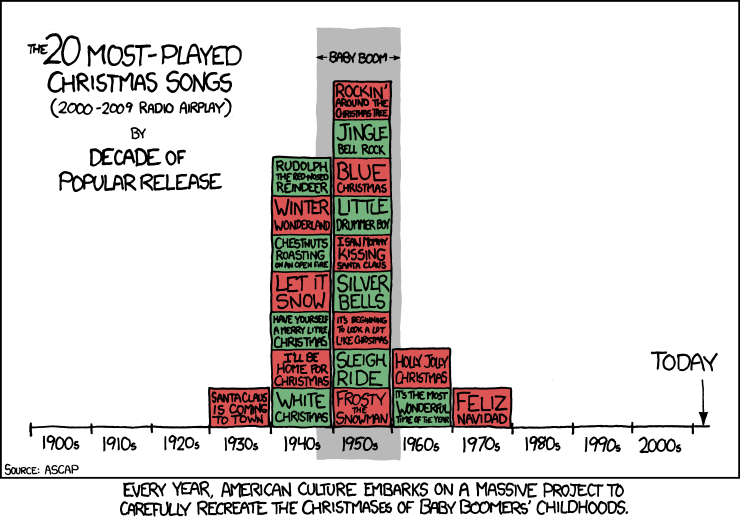 TODAY'S QUESTION
The Anoka-Hennepin school district might drop its neutrality policy about sexual orientation and replace it with a new policy that addresses controversial issues. The proposed new policy would bar teachers from advocating for one side or another on controversial issues in classroom discussions, but does not specify what those issues are. Today's Question: What topics would you consider controversial in a classroom setting?
WHAT WE'RE DOING
Midmorning (9-11 a.m.) – First hour: Author Susan Orlean tells the powerful story of Rin Tin Tin (Rebroadcast)
Second hour: Who are the literary characters who inspired you the most?
Midday (11 a.m. – 1 p.m.) – Both hours: An America Abroad documentary on the European debt crisis.
Science Friday (1-3 p.m.) – First hour: Asia's space race.
Second hour: The debate over genetically modified salmon.