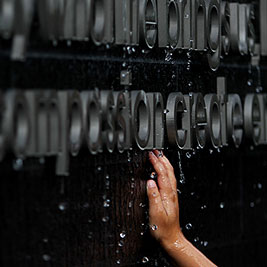 The I-35W bridge disaster memorial in Minneapolis was a lovely tribute to the people who died in the collapse four years ago.
It's a pity it took only a few hours for vandals to deface it.
The Star Tribune reports someone stole two-dozen stainless steel (pricey stuff) letters from the memorial, including the names of those who died in the 2007 disaster.
All the letters and names are now being removed until the memorial can be repaired.
Company policy prevents me from actually writing the last sentence of this post. But there's nothing that says you can't.
Update 3:15 p.m. – The press release from the city of Minneapolis:
Minneapolis police this morning responded to an incident of vandalism at the new Remembrance Garden dedicated to the victims and survivors of the I-35W Bridge collapse. The memorial, which was dedicated on Aug. 1, features a "survivor wall," which includes the names of collapse survivors and a message. Vandals removed 22 letters from the message.

Mayor R.T. Rybak said, "When the bridge collapsed and people were suffering, hundred of thousands of Minnesotans surrounded them with compassion. Now one or more individuals, through a single act of remarkable ignorance, are prolonging that suffering. That can change: I call on those responsible to immediately return the stolen letters. It's beyond description how wrong this act is, but it does not change the thousands of acts of compassion and support that this community has shown."

Police are investigating the vandalism, and in the meantime, the remaining letters are being removed from the wall until new ones can be installed. It is expected that it will be approximately two weeks before the new letters are in place.

Anyone with information on this act of vandalism is asked to call the police department's First Precinct at (612) 673-5701 and ask for the property crimes division.

The message on the survivor wall was crafted by survivors and the loved ones of those who were lost. It reads, "Our lives are not only defined by what happens, but by how we act in the fact of it, not only by what life brings us, but by what we bring to life. Selfless actions and compassion create enduring community out of tragic events."
Update 4:31 p.m. Courtesy of Bryan Reynolds (via Twitter), here's what the missing letters could spell:
Whoever I
However I
Viewer Ho
Viewer Oh
Review Ho
Review Oh
Rewove Hi
Heir Wove
Hire Wove
Hive Wore
Hero Wive
Hero View
Hoer Wive
Hoer View
Whore Vie
Hove Wire
Hove Weir
Hew Vireo
Here I Vow
Ere Hi Vow
Veer Hi Ow
Veer Who I
Veer How I
Ever Hi Ow
Ever Who I
Ever How I
Eve Hi Row
He Ire Vow
He Rive Ow
He Vie Row
He Wive Or
He View Or
Eh Ire Vow
Eh Rive Ow
Eh Vie Row
Eh Wive Or
Eh View Or
Hie Re Vow
Hie Rev Ow
Hive Re Ow
Hive We Or
Hover We I
Her Vie Ow
Her Wove I
Hew Vie Or
Hew Rove I
Hew Over I
Rive We Ho
Rive We Oh
Vie Re Who
Vie Re How
Vie We Rho
Wive Re Ho
Wive Re Oh
View Re Ho
View Re Oh
Rove We Hi
Over We Hi
Wove Re Hi
Woe Rev Hi
Owe Rev Hi
He Re I Vow
He Rev I Ow
Eh Re I Vow
Eh Rev I Ow
Rev We Ho I
Rev We Oh I
I'm thinking the perpetrators weren't trying to make some statement here.