Two roads back, LRT street art, tune out and turn off in college, Ron Paul jumps in, and how to escape a disaster you just made.

1) TWO ROADS
Two stories today — one from MPR, one (and more) from NPR — detail the road back from a life that may be the only one people have known. What happens to kids who grow up in the wrong world? They become adults living in the wrong world.
In both of these stories, the phrase "the only life I knew" resonates.
The Red Road Home in Bemidji aims to keep Native American men out of the "revolving" door of jail and prison," according to MPR's Tom Robertson. American Indians make up less than two percent of Minnesota's total population, but they account for more than eight percent of adult offenders in the state's prison system, he says.
"My whole family is like alcoholics and stuff, but also was dealing drugs," one man said. "That's how I grew up and that's what I knew."
The program emphasizes cultural and spiritual practices. Does it work? It's too soon to say; it hasn't been operating long enough. But, so far, the alternatives — doing nothing — has been proven more ineffective.
NPR, meanwhile, is in the middle of a series on women who are trying to recover from a life of drugs and prostitution. A program in Nashville, based on the 12-step method, aims to help women "trapped by prostitution."
"I have never met a woman coming off the streets of Nashville, Tenn., who chose prostitution as their preferred career at the age of 6, 7, 8 and 9," the founder says (see video).
Part two of the series is here. Part three will air this afternoon on All Things Considered.
2) ST. PAUL STREET ART
From the "make lemonade" file: Isn't this real art? If you live in St. Paul, perhaps you, too, have been fascinated by the scrawlings on the roadway, just before the construction crews for light-rail dig up the street. If it's art, it should somehow be preserved for future generations. Here:
There are so many imponderables here. What is it telling someone? Are they instructions? If so, what happens after they remove the asphalt and start digging? You can't very well go back and doublecheck.
Of course, the crews have been doing this for more than a year now in advance of the light-rail line coming to town. Yesterday, the Federal Transit Administration found no evidence to support claims by two St. Paul community groups that the Central Corridor light-rail project would adversely affect minority neighborhoods along the line, MPR's Laura Yuen reported.
The complaints were filed two years ago by groups representing African and Asian-American communities.
There are a lot of federal guidelines and bureaucratic standards involved in making such a determination. This picture, taken by MPR's Jeffrey Thompson on University Ave., a few weeks ago, seems like the very definition of adverse effects: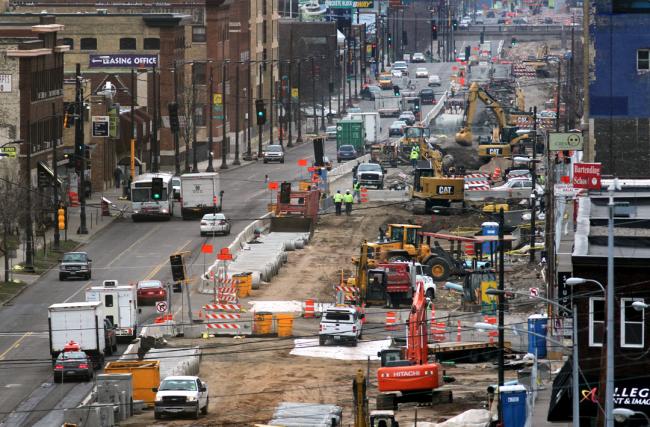 The Pioneer Press reports today that the area has become a favorite for "taggers." Another form of "street art," perhaps.
3) TUNE OUT, TURN OFF
When professors at the Massachusetts Institute of Technology say it's time to unplug from technology, it might be time to listen. They're trying to get college officials around the country to "free students from their tether to technology," the Boston Globe reports…
In class, professors complain about students trading stocks online, shopping for Hermès scarves, showing one another video clips on YouTube — leading some faculty to call for the unwiring of all lecture halls.

"Students are totally shameless about how they use their computers in class," said David Jones, an MIT professor. "I fantasize about having a Wi-Fi jammer in my lecture halls to block access to distractions."
4) PAUL IS IN
Ron Paul reportedly will jump into the presidential race today.
Paul is 75 years old. Let me toss this potential ticket at you: Ron Paul and Michele Bachmann?
5) HOW TO ESCAPE A DISASTER YOU MADE
This is going to make working in a cubicle all day seem like a lame way to live.
TODAY'S QUESTION
Newly leaked documents suggest that a number of detainees released from the Guantanamo Bay detention camp had been previously classified as high risk. Today's Question: What principles should guide the disposition of Guantanamo's inmates?
WHAT WE'RE DOING
Midmorning (9-11 a.m.) – First hour: In the hands of Hans Rosling, data on health and economics come to life. He joins Midmorning to explain how data can be used to burst myths about the developing world.
Second hour: Arthur Phillips, author of "The Tragedy of Arthur." His previous books include "The Song is You" and "Prague."
Midday (11 a.m. – 1 p.m.) – First hour: Former legislative leaders discuss the final month of the session.
Second hour: America Abroad documentary "Tehran Rising: Persian Power in an Unstable Region."
Talk of the Nation (1-3 p.m.) – First hour: The costs and benefits of energy.
Second hour: Working the night shift and fighting the sandman.
All Things Considered (3-6:30 p.m.) – St. Paul-based Lawson Software has agreed to be acquired by private equity firm Golden Gate Capital and business-software company Infor for $2 billion. MPR's Martin Moylan will report.
A signing ceremony is scheduled for today on the long-awaited FFGA (federal funding grant agreement), which commits the federal government to pay half the cost of the nearly $1 billion line from Minneapolis to St. Paul. Laura Yuen is covering.
MPR's Chris Roberts interviews Andy Sturdevant, a one-man art scene.
The number of homeless Minnesotans has jumped over the past few years. Some people end up in shelters where they get three meals a day. It's a break from the daily struggle to get enough food, and allows time to get the rest of their lives in order. But the nutrition at shelters and meal programs really varies. MPR's Julie Siple looks at how a group of meal providers in Ramsey County is looking for ways to improve nutrition for the homeless.
La Crosse Sen. Dan Kapanke faces recall petition. He's one of eight Republicans targeted for his support of a controversial bill to curtain collective bargaining rights for public workers. Recall supporters, union members and public employees believe they have what it takes to take back the district, even though Kapanke's lawyers are challenging the recall petition. Meanwhile, Dem. State Rep. Jennifer Shilling has launched her bid against Kapenke in a recall election and is campaigning around the district on a largely single-issue platform that opposes Gov. Scott Walker's controversial budget repair bill. MPR's Elizabeth Baier will have the story.