Floods bring out the inventors.
The Woodbury Bulletin is profiling city resident Craig Ferguson, who tried out his invention — the Sand Shark — in Stillwater last weekend. It allows one person to fill a sandbag instead of the two it usually takes.
After attaching an empty sandbag, he wheeled the device into a sand pile and tipped the Sand Shark back. After repeating the process two more times, he had a full 40-pound sandbag.

Total time: about 30 seconds. Craig figures the Sand Shark fills at least 40 sandbags every half hour.

And, Mary Kay noted, "It's easy on the back."
It's an interesting idea, but it does make sandbagging an individual activity. There's a downside to that.
This is what the contraption is trying to replace (from the 2009 flood in Fargo):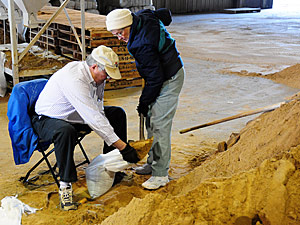 That's not going to work. First, these two probably-married people are going to be fighting within a few minutes. Look at the form: How is that shovelful of sand supposed to get in that sandbag?
But there already is a better way. Consider the system used in the neighborhoods of Moorhead in 2009:
Upside-down highway cones form a funnel. One person holds the bag under the cone, one person shovels the sand in. Couldn't be easier.
Judging by the river forecasts, there'll be more calls for sandbag volunteers. Answer the call. Here are some guidelines to hide your sandbag rookie status:
-1- Be young. A little work won't kill you and, besides,
-2- Plan on meeting the guy — or woman — of your dreams. You'll know it's the person of your dreams because he — or she — will volunteer to do the shoveling.
-3- Two or three shovelfuls of sand will do it. Remember: Some elderly couple who met each other at a sandbagging event many, many years ago, is going to have to pick these up.
-4- Don't tie the bags. It takes too much time, and makes it more difficult to pass the bag in a sandbag line. The person at the end of the line who has to place it on the dike just folds the top under.
Moorhead has already moved on from the crude, human-powered method. It used machines and paid labor this year to produce 1.5 million sandbags and will be delivering them on pallets to the affected neighborhoods on Thursday. It's good for efficiency, potentially bad for romance.