Destroying Winter Carnival evidence, love stories, trying kids as adults, a memo from the overhead bin, and photo contest winners.

1) DESTROYING THE EVIDENCE
Ever had people try to sell you pictures of your kid? If you say "no," they rip up the picture — the one of your kid — in front of you. I thought of that today when I saw this: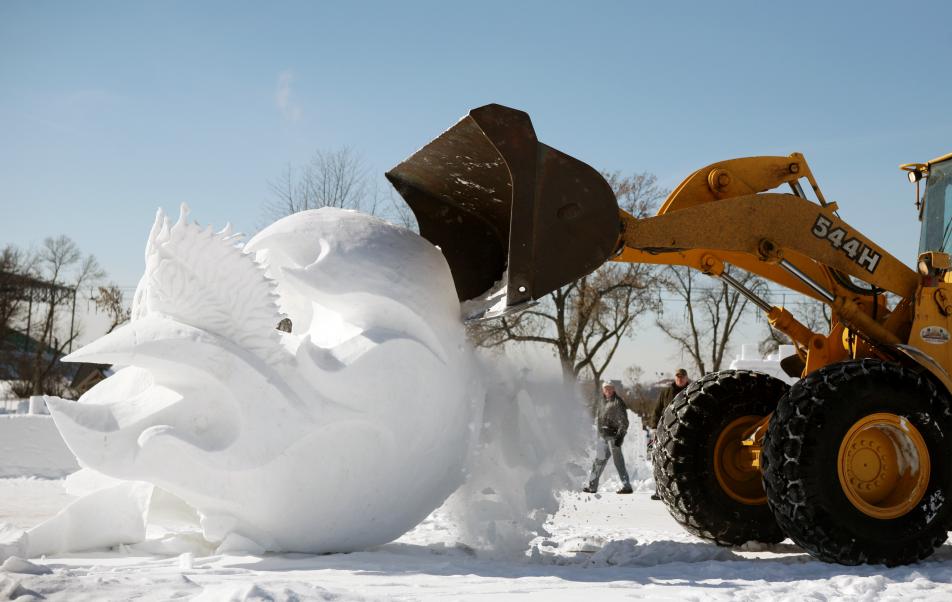 Crews were destroying the snow sculptures at the State Fairgrounds now that the Winter Carnival is over. The ice skating rink downtown? Dismantled. Those wonderful ice sculptures in Rice Park? Smashed.
Pretty soon, any reminder that we had any fun for a couple of weeks in winter will be gone.
Find more of Jeff Thompson's pictures here.
The Winter Flower Show is underway at the Como Conservatory. See them before we bulldoze 'em.
2) BUT WHAT IF THE ATM MACHINE HAD WORKED?
Why wait for Monday to tell a good love story? Majid Al-Bahadli grew up in Iraq; he came to the United States after the first Gulf War. But it was his job as a gas station cashier — and a problematic ATM machine — that helped him meet the woman he would later marry.
Love takes many forms. Dale Connelly writes today about a husband's faith in his artist wife… though there was little to indicate, perhaps, that much of a career was ahead.
On Grand Avenue outside café the snows whirled dreamily like a snow globe. As I stepped into the night I was thinking, "Oh, lady, I hope you love him like he loves you! That man believes in you absolutely. I don't know what kind of career you are going to have, but I would bet tonight that your marriage is going to go the distance."
3) HOW YOUNG?
How old must a kid in Minnesota be before he/she is tried in court as an adult? I've written a few times over the years about the attempt to pass Emily's Law, named after a girl who was killed by a neighborhood kid. The last time the bill was at the Capitol, it would have lowered the age to 13. It languished in committee. This year it says that only children "under 10" are incapable of committing a crime. The committee took no action on the bill, the Star Tribune reports.
4) A MEMO FROM THE OVERHEAD BIN
Ryan Air — that's the airline that was going to charge to use the bathroom — has sent this video to students from Belgium who were tossed off a recent flight. One of the students tried to board with an oversized suitcase; the rest staged a mutiny.
"Ryanair is today calling on Belgian universities to ensure no further embarrassing international episodes when their students travel abroad by providing them with an online tutorial in how to pack light.," the airline CEO said.
5) 1,000 WORDS
World Press photo winners were announced this morning. Ever notice how often the winner of international photo contests involve a woman and the Taliban? A few years ago it was a mere baby, taken as a wife by an old man. This year it's an 18 year old whose husband cut off her nose and ear because she tried to leave him. I was going to post the photo here but have decided not to. I was torn between the need for us to confront certain realities and the need not to spend the day answering e-mails protesting publication. You can find it here. (Last year's winners are here)
Bonus: How good is the public transportation system in Minnesota? Better than Chicago. Better than Washington. Better than everyone but New York, Boston, Portland, and Salt Lake City, according to US News. Do you agree? (h/t: City Pages)
TODAY'S QUESTION
A bill being discussed in the Iowa Legislature would require the University of Iowa to sell the centerpiece of its art collection, an 8-by-20-foot painting by Jackson Pollock. Legislators argue that the painting, with an estimated value of $140 million, should go to fund scholarships for students. Should a university's art collection be treated as a financial asset?
WHAT WE'RE DOING
Midmorning (9-11 a.m.) – First hour: Technology and social media can enhance the travel experience, but is their a point where constant Facebook updates and tweets about a vacation override the actual experience?
Second hour: Rick Steves believes a life devoted to thoughtful travel can change your assumptions and broaden your perceptions. He joins Midmorning to talk about how people can gain a better understanding of the geopolitics of the work through travel.
Midday (11 a.m. – 1 p.m.) – First hour: TBA
Second hour: TBA
Science Friday (1-3 p.m.) – First hour: A look at an IBM computer designed to compete on Jeopardy!.
Second hour: Dr. H. Gilbert Welch on his new book "Overdiagnosed."
All Things Considered (3-6:30 p.m.) – Denny Hecker is sentenced today after a multi-year run as a world-class scofflaw. MPR's Marty Moylan will have the details.
It's former Minnesota Gov. Tim Pawlenty's turn to throw some red meat at conservatives at CPAC today. MPR's Mark Zdechlik is following his every word.