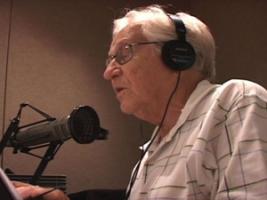 Breaking: KVSC reports that Henry Oertelt has died. Oertelt, of St. Paul, has told his story around Minnesota for over 40 years, mostly in speeches at colleges, high schools, and churches. In recent years, he worked closely with the station to record his memories, so they would live on in podcasts.
"It would be available all over the world. The story and my book will be listened to for many years to come, after I'm gone," he said.
I visited with him in his home a few years ago. Find the interviews with and about Henry here. And you can find KVSC's marvelous work on Mr. Oertelt's project here.
1) MYTHS OF CHALLENGER
The Challenger did not explode, the crew did not die instantly, mostly people did not see the event live, the disaster was not caused by the cold, and shuttles do not now have ejection seats. National Geographic challenges what we think we know about the disaster that happened 25 years ago today.
2) THE MOST IMPORTANT QUESTION: WHY?
While the top news in the rest of the world was the rioting in the Middle East, much of the U.S. audience got the latest on Charlie Sheen's lifestyle. Even when news organizations talked about the rioting, there was very little to explain why all of this is taking place. Foreign news isn't our strong suit. Even NPR has failed as this blog post attests. Here's a country-by-country breakdown of why it's taking place. At the heart of the protests, the Washington Post says, is resentment. Some have. Some haven't.
Here in the U.S., we respond quickly when other nations clamp down on Twitter and the Internet. That we can relate to. But as Wired points out, the Internet isn't a big player in Egypt. When the uprising ends — probably in success — there will be some who will say it shows the power of Twitter and the Internet. They're wrong, according to Wired.
This situation is changing quickly. Live TV coverage can be found on al Jazeera's English channel.
3) IS IT TIME TO GET OUT OF THE RECREATION BUSINESS?
A string of budget cuts passed the Minnesota House yesterday and lawmakers are warning that more painful ones are on the way. In Moorhead, a question being asked may be next for many cities and counties: Why are we in the recreation business?
Moorhead is thinking of selling its two golf courses, the Fargo Forum reports. Golf was once a popular sport in Minnesota, with more rounds played per capita than anywhere else in the country. But participation has dropped precipitously in recent years.
Should cities and counties sell their golf courses?online survey
Lawmakers say everything is on the table during our budget crisis. What about recreational facilities and programs? Are they valuable to you?
4) ARE SMALL AIRPORTS A THREAT?
I'm not much of an objective person when it comes to general aviation issues, but I am an informed one. So when The Atlantic carried a story the other day suggesting that small airplanes represent a significant terror threat, I rolled my eyes. That hasn't stopped the reliever airports in the Twin Cities to spend money erecting large fences to create the impression that this comparatively non-existent threat has been conquered. Leave it to The Atlantic's Lane Wallace — an acquaintance and also an occasional guest on MPR's Midmorning — to explain why the notion of threat is nonsense:
1. It's a rare airport fence that can't be gotten around, if you know your way around. The high fences and intimidating signs make airports seem unapproachable by community people, but they tend to fall more into the realm of "security theater" (which Jim has talked about many times) than a real deterrent for someone intent on getting access to an airport or airplane for nefarious reasons.

2. Despite the public's fears of a rogue pilot with terrorist intentions, most general aviation airplanes are extremely limited in the damage they can inflict. There's a reason the 9/11 attackers chose 767 airliners filled to the brim with fuel for transcontinental flights for their weapons. Something smaller wouldn't have been effective. Recall that in the same week as a van driven by an elderly man went out of control in Herald Square, New York, killing half a dozen people, a small airplane flown by a suicidal teenager crashed into an office building in Tampa, Florida, doing serious damage to a desk.

3. The power of human connections. Aviation is a small community, and individual airports are like very small towns. Strangers stand out. And pilots look after each other. A private plane is also a different environment than an airliner. Airliners carry a large number of people who don't know each other. So the risk of a lone terrorist making their way on board is real. That's not the case on a private plane. You know your fellow passengers. What's more, if you blow up an airliner, you kill a lot of innocent people who are on board with you. That's not the case with a private plane–which is another reason they're less attractive as a target.
5) CROW EATING
There's a metaphor here somewhere in this video posted this week from someone's backyard in Minneapolis. Anyone want to take a stab at what that metaphor might be?
(h/t: Dave Peters)
Bonus: The inside story, apparently, of the firing of NPR's Ellen Weiss. (Washington Post)
TODAY'S QUESTION
Today is the 25th anniversary of the Challenger explosion. NASA's shuttle program is coming to a close. What should come next for America's space program?
WHAT WE'RE DOING
At noon today — on MPR's Web site — Minnesota Public Radio News and the local newspaper, Hometown Focus, will discuss challenges facing Minnesota's rural hospitals. Hometown Focus is hosting the online forum examining issues facing Virginia's hospital.
Midmorning (9-11 a.m.) – First hour: Medical malpractice reform: Will it really reduce health care costs?
Second hour: Studying Marriage: What Women Want and How Men Behave
Midday (11 a.m. – 1 p.m.) – First hour: Protests in Egypt, Tunisia, Yemen, Lebanon: What it means for the Mideast and the world. Guest: Egypt scholar Diane Singerman of American University.
Second hour: A new documentary from American RadioWorks, "Back of the Bus: Mass Transit, Race and Inequality."
Science Friday (1-3 p.m.) – First hour: Political activists in North Africa, logging onto Facebook to publicize their protests.
Second hour: Digital music sampling and copyright.
All Things Considered (3-6:30 p.m.) – Two state Senate committees will meet this afternoon in Hibbing to hear testimony on plans to streamline environmental review for mines and other projects. In northeastern Minnesota, people want jobs, and they also want to protect the environment. A proposal for the state's first copper-nickel mine has been under review for five years. And more mining projects are waiting in the wings. The Senate committees on jobs and economic development, and the environment and natural resources, will hear from local residents. MPR's Stephanie Hemphill will have the story.
MPR's Jess Mador says a financial literacy program held at the Urban League in North Mpls is about to graduate its first group of students. The program is two years long and has a success rate of more than 90 percent.
MnSCU board of trustees will announce finalists in their search for the system's next president on Monday. Tim Post's story willl assess how the current chancellor has done over the past 10 years, and what sort of skills the next chancellor will need to have.