Ed. Note: Bob is resting (comfortably, we hope) after a late night of furious election coverage. I'm pinch-hitting for today's 5×8.
1) The 'R' WORD
The 2010 race for Minnesota governor might not be as close as the 1962 contest — an election decided by 91 votes out of 1.25 million cast — but it appears we are headed for another recount. At least we can work off the 2008 Recount Guide [pdf]. And if that doesn't help, there's always the flowchart [pdf]. Well, at least we're not alone.
2) PHOTOS FROM ELECTION NIGHT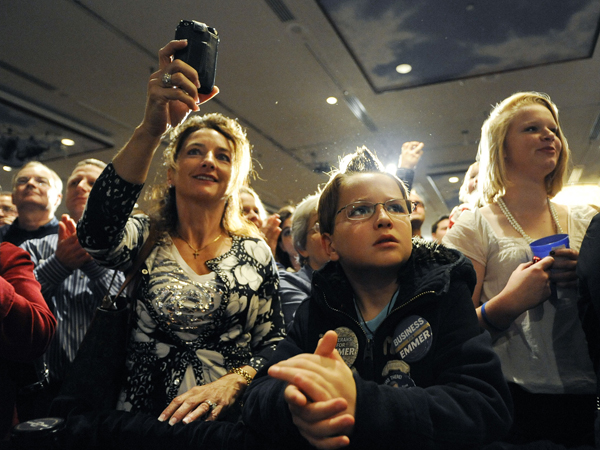 View the full slideshow
3) TWEETS OF THE NIGHT/MORNING
4) RED? BLUE? WE JUST WANT GREEN
The Washington Post had a piece on the millions of dollars lawyers, lobbyists and associations spent on the mid-term elections, jockeying for influence on Capitol Hill. It's not surprising, considering that D.C.'s biggest firms grew their revenue significantly in 2009 with an active legislative agenda. And with the shifty political landscape, it probably makes better business sense to run a bi-partisan shop.
5) SMOKE-FREE IN SOUTH DAKOTA
Voters in South Dakota extended a smoking ban to bars, restaurants and casinos with the passage of Referred Law 12.
The Legislature last year extended the smoking ban, and Gov. Mike Rounds signed it into law. Opponents, however, mounted a petition drive to get the smoking ban on the ballot in hopes voters would repeal it. The validity of the signatures obtained in the drive survived a court challenge by the American Cancer Society and other smoking ban proponents. During all that time, enforcement of the ban has been held at bay.
See also: List of smoking bans in the U.S.
TODAY'S QUESTION
After GOP victories, what changes do you see for the state and the country?
MIDMORNING