Spare the picture books if you want your first-grader to get into Harvard, the danger of documenting grief, when is it time to move on, return to Peshtigo, and Star Wars in paper.

1) WHERE THE WILD THINGS AREN'T
Parents, what are you doing to picture books? "So many of them just die a sad little death, and we never see them again," said Terri Schmitz, a bookstore owner.
Today's discussion point is these two paragraphs in the New York Times that explains the reason why:
Parents have begun pressing their kindergartners and first graders to leave the picture book behind and move on to more text-heavy chapter books. Publishers cite pressures from parents who are mindful of increasingly rigorous standardized testing in schools.

"Parents are saying, 'My kid doesn't need books with pictures anymore,' " said Justin Chanda, the publisher of Simon & Schuster Books for Young Readers. "There's a real push with parents and schools to have kids start reading big-kid books earlier. We've accelerated the graduation rate out of picture books."
Another bookseller says parents think if their kid reads picture books, he/she won't get into Harvard.
They're right. We read this one to our kids hundreds of times. They didn't go to Harvard.
2) THE GREATER GOOD
"Sometimes reporters make people's lives unpleasant for the greater good," reporter/blogger Andrew Phelps writes on his WBUR blog. This week he was put in a bad situation for anyone in this business: He and his colleague — a former Minnesota Public Radio reporter — had to go into a hostile environment to tell part of a story that needed to be told: The funerals of four people who were gunned down in the city's Mattapan section. He didn't ask "how do you feel?" or any of those stupid questions. Instead, he did the same thing I did yesterday with the picture of a young girl at her soldier-father's funeral: He showed what murder looks like:
On Tuesday, I felt like I didn't have the right to photograph the mourners at Martin's funeral in Roxbury, people I have never covered before. I can't imagine anything more infuriating than a photographer in your face as you grieve. One woman shouted at me, "Don't take her picture! Don't do it!"

But I kept snapping, because I had to tell this story. WBUR ran the photo, as did the Globe and the Herald. No one in, say, Cambridge or Brookline would know this grief unless we showed it to them.
The mourners have a point, too. They don't want the media coming into their community only when something bad happens. The problem comes because most people in the media don't live in the inner city and don't know what's going on.
There are lots of stories that need to be told. The humanity behind a homicide statistic is one. The good work is another. Someone has to go first and trust the other.
There's nothing worse than violating someone's grief, except for ignoring the problems that causes it.
3) WHEN IS IT TIME TO MOVE ON?
In North St. Paul, the Pioneer Press reports today, the widow of a police officer shot to death a year ago has started a petition drive to allow police officers to continue wearing a pin in her husband's honor. The police chief says city policy was waived to allow the officers to wear the pin for the last year, but now it's time to move on, and too many pins on a uniform are dangerous.
Leave it on or take it off?survey software
4) RETURN TO PESHTIGO
It was 139 years ago today…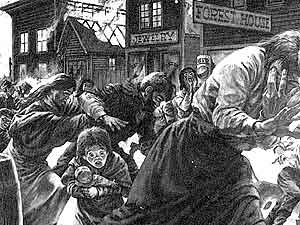 5) STAR WARS IN PAPER
Featuring a soundtrack from Twin Cities musician Jeremy Messersmith.
Jeremy Messersmith – Tatooine from Eric Power on Vimeo.
More art: A woman in Minneapolis is choosing to mark the loss of her home to foreclosure by temporarily converting it into a gallery, which opens this weekend.
Don't give up the day job: A robot "dances" to Swan Lake.
Bonus: A woman who was raped asks how many others have been raped but didn't report it:
Eventually, I did tell a few people. Not the police but some close friends. And I found out something that shocked me. Many of my friends had also been raped. And none of us had ever mentioned it to each other.
TOP TWEET
TODAY'S QUESTION
When President Obama won the Nobel Peace Prize a year ago, he said he would accept it as "a call to action" on the world's problems. Has President Obama lived up to his Nobel Peace Prize?
WHAT WE'RE DOING
I'll have a News Cut Quiz this week. Look for it here by mid-afternoon.
Midmorning (9-11 a.m.) – First hour: Robert Reich, former labor secretary under President Clinton.
Second hour: Ruth Hayden shares her golden rules for money management.
Midday (11 a.m. – 1 p.m.) – First hour: American RadioWorks and MPR education reporters Emily Hanford and Tom Weber discuss recent reporting on what makes a good teacher.
Second hour: Longtime MPR music announcer Arthur Hoehn, who will be inducted into the Museum of Broadcasting Hall of Fame on Saturday
Science Friday (1-3 p.m.) – First hour: Inside the American Astronomical Society's Planetary Sciences meeting.
Second hour: Information spreads quickly online. A new project seeks to map the spread of ideas on services such as Twitter and help identify artificially-created memes.
All Things Considered (3-6:30 p.m.) – Director Peter Raymond is in town to introduce the local premier of much-lauded documentary about a Canadian pianist who is still hailed as a genius a quarter century after his death. MPR's Euan Kerr will have the story.
How much was Target Field worth to the Twins? And what will the playoffs be worth? Marty Moylan will have the answer.