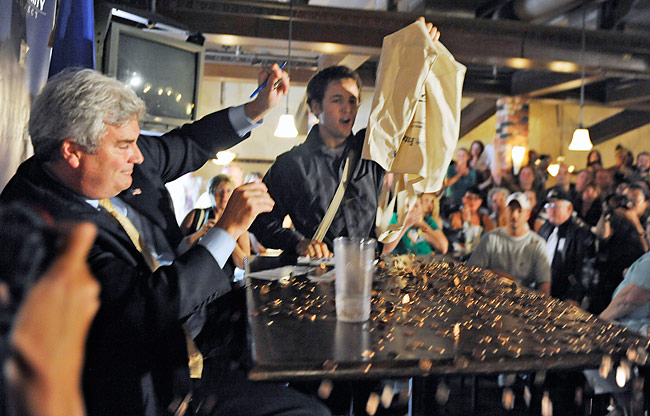 It was asking a lot to expect some opponents of Rep. Tom Emmer — that is, those who aren't in the business of waiting on tables — not to try to hijack today's odd showdown between Emmer and the people whose minimum wage he wants to cut — or the people whom he wants to see succeed, depending on whom you believe.
One did, making it difficult for news consumers to know what part of today's event was with real wait staffers, and what part of a hostile crowd was orchestrated by Emmer's opponents.
And that makes Emmer's already-befuddling decision to keep an issue alive that's been killing his campaign for a week all the more puzzling; the likelihood that he'd walk into a trap set by his opponents was entirely predictable.
No doubt, there were legitimate waiters and waitresses in the audience to tell Emmer what they thought about his idea. But when Robert Erickson (real name: Nick Espinosa) of Minneapolis tossed 2,000 pennies at Emmer to protest Emmer's position on the Arizona immigration law, he hijacked an event that was supposed to belong to the waiters and waitresses, about whom so many people have professed to be concerned. They didn't need his help; by all accounts, they were doing fine without him.
Erickson is a performance artist who specializes in this sort of thing:
Ironically, in his opposition to Emmer, he did the Republican nominee a big favor: He took the minimum wage issue off the table, and replaced it with the immigration issue, an issue that is right in Emmer's political wheelhouse.
It's unlikely that many TV stations will be able to resist the image of Erickson's coin toss at meeting of waiters and waitresses who went to the meeting to talk about something entirely different.
If you didn't know any better after watching a rather clumsy performance by Emmer's campaign staff this week, one almost might think that was the plan all along.