If you were born on 5/5/55, you turn 55 today.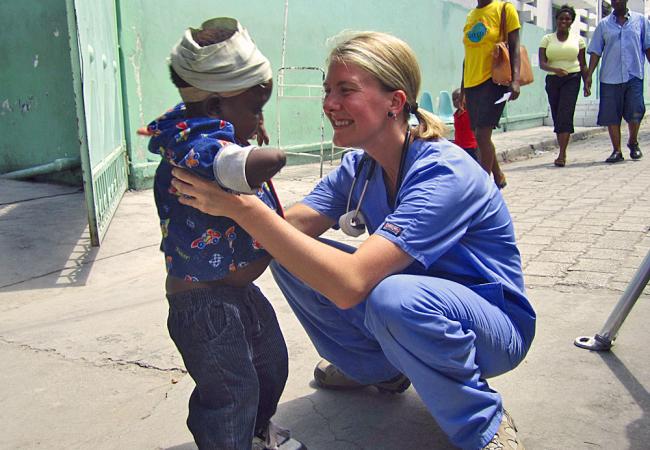 1) The news gives us lots of opportunities to put ourselves in the position of others and ask, "What would I do in that situation?" Earlier this week, for example, we heard from the jogger who witnessed the shooting of a police officer, and got involved in summoning help.
Last evening's interview with Julie Pearce on All Things Considered is another example. The Duluth TV anchor, trained in nursing, knew she had to do something when the earthquake struck Haiti; more than just read into a camera and tell you about it. So she quit, and went to Haiti. She left the rest of us asking ourselves, "What would I do?"
"I've seen dead bodies line the street, seen babies born, watched babies die, held mothers who have lost their children, treated gunshot wounds and children hit by cars, watched children cry, helped children smile, been in several earthquakes, been scared to go to sleep, and grateful to see another day. I've seen the worst in people and the best in people."
2) Last summer, a Detroit columnist got it right when he said a tragedy in life is that Ernie Harwell never got a chance to sit on the porch on a summer night and listen to Ernie Harwell call a baseball game. Harwell died yesterday, leaving Vin Scully as the last great baseball announcer.
3) If you turn right at a red light today, think of Roy Schulz, who sponsored the legislation in the Minnesota House. Schulz, from Mankato, was a long-time lawmaker until his retirement in 1970. He died over the weekend.
The Mankato Free Press offers a tribute to him, along with a reminder that back in the day when the Minnesota legislative process worked, it was — technically — non-partisan.
Schulz was a Republican but the Legislature was technically nonpartisan throughout his tenure, so he was a member of the Conservative Caucus that held the majority. Searle remembers one of the most monumental battles coming when lawmakers wanted to pass the state's first sales tax despite the objections of Republican Gov. Harold LeVander.

Searle said the entire Conservative Caucus was invited to a meeting with LeVander the night before the vote, where he pleaded with them to not pass the sales tax and then threatened a veto when they weren't persuaded. They passed the bill, LeVander vetoed it and the conservatives recruited a pair of liberals to join them in overriding the veto in the House.
Fast-forwarding to May 5, 2010. The Minnesota House late last night passed a health and human services bill with $164 million in cuts, mostly to programs for the poor. They're wasting their time. Gov. Tim Pawlenty says he'll veto the bill and whack almost a half-billion dollars from the budget on his own. Can he do that? Yes, unless the Minnesota Supreme Court overturns his authority to do so. A ruling on that question could come tomorrow morning.
A bill providing public financing of a new stadium for the Minnesota Vikings survived its first test yesterday.
4) The Star Tribune looks at how a couple of crooks ended up with the ability to kill a cop on Saturday. Meanwhile, in Chicago, a woman was sent to jail for wearing a T-shirt.
5) The oil slick in the Gulf of Mexico will never work its way up the Mississippi, of course. But its impact will. Local farmers may be unable to ship crops throughout the world, the Winona Daily News reports.
Bonus: Your flash mob video of the day:
I believe the university president is in that group.
TODAY'S QUESTION
Does Minnesota need tighter limits on access to guns?
WHAT WE'RE DOING
Midmorning (9-11 a.m.) – First hour: Architect and author Sarah Susanka talks about how to remodel your home when money is tight and the space is small.
Second hour: Minnesota's famously short growing season begins and Rebecca Kolls has ideas for growing vegetables and managing your landscape.
Midday (11 a.m. – 1 p.m.) – First hour: GOP-endorsed gubernatorial candidate Tom Emmer.
Second hour: John Heileman and Mark Halperin, authors of the best-selling book, "Game Change: Obama and the Clintons, McCain and Palin, and the Race of a Lifetime."
Talk of the Nation (1-3 p.m.) – First hour: Last year, Sen. Arlen Specter bolted the Republican Party. Now, he has to prove himself to Democrats in his home state. Joe Sestak, his opponent in the Pennsylvania primary this month, won't make that easy. They both join NPR political editor Ken Rudin.
Second hour: Meghan Daum has a house problem. For her, happiness was always just a new house away, and real estate was an obsession. Finally, she sunk her savings into
900 square feet of bungalow at the height of the housing boom.
All Things Considered (3-6:30 p.m.) – Next year, the first wave of baby boomers turns 65. That will set into motion a demographic shift that will strain state and federal budgets for decades to come. In 10 years, one in six Minnesotans will be over the traditional retirement age. But some rural parts of the state are already there. Todd County, located an hour northwest of St. Cloud, is discovering the difficulty of caring for a growing elderly population with less state money to pay for services. MPR's Curtis Gilbert will have the story.
An ongoing study of prairie land in North Dakota and South Dakota shows some prairie birds appear to be affected by the presence of wind turbines while others are not. Researchers are also trying to determine if wind turbines will scare ducks away from prime nesting habitat. MPR's Dan Gunderson will report.