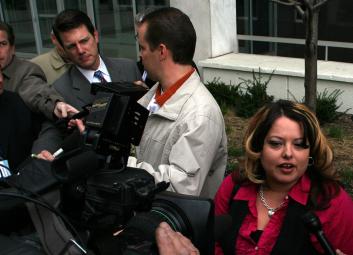 In the big scheme of things — no pun intended — Tom Petters got off light. Petters was sentenced today to 50 years in prison for running a Ponzi scheme that bilked investors out of $3.5 billion. Was it a fair sentence? Who's to say? There is a lot that goes into calculating sentences, including sentencing guidelines and the age of the perpetrator.
But let's go with the exclusive News Cut Ponzi Ratio, which calculates how much a crook steals for every minute they spend in prison.
Here is a list of some of the big Ponzi scheme convictions in the country in the last two years, the sentence the perpetrator received, and the amount of money stolen for every minute the criminal will spend in prison. In the case of Petters, he'll spend one minute in prison for every $133.18 he stole.
Strictly on the basis of the extent of the crime vs. the sentence, Kalin Dao, a 33-year-old Vietnamese immigrant in Minnesota, got a stiffer penalty last month for defrauding people out of nearly $7 million to support a gambling habit. She'll spend a minute in prison for every $1.11 she stole.
Of course, for Petters to get a similar sentence would've required one of about 6,000 years.
| | | | |
| --- | --- | --- | --- |
| Perp | Ponzi theft total | Years in prison | Ponzi ratio |
| Scott Rothstein | $1,200,000,000 | Pending |   |
| Bernie Madoff | $65,000,000,000 | 150 | $824.45 |
| Tom Petters | $3,500,000,000 | 50 | $133.18 |
| Sam Favata | $32,000,000 | 5 | $12.18 |
| John Montana | $33,000,000 | 6 | $10.46 |
| Andres Leonel Pimstein | $50,000,000 | 17 | $5.60 |
| Joseph Forte | $35,000,000 | 13 | $5.12 |
| Wesley Snyder | $29,000,000 | 12 | $4.60 |
| Benny Judah | $50,000,000 | 25 | $3.81 |
| Neulan Midkiff, | $30,000,000 | 15 | $3.81 |
| John Anthony Miller | $21,000,000 | 13 | $3.07 |
| Sean Healey | $16,700,000 | 15 | $2.12 |
| John M. Donnelly | $5,000,000 | 7.5 | $1.27 |
| Kalin Dao | $7,000,000 | 12 | $1.11 |
| James Bunchan | $19,000,000 | 35 | $1.03 |
| Michael Heshelman | $7,000,000 | 17 | $0.78 |
| Steven Tennies | $1,600,000 | 4 | $0.76 |
| Jerry Johnson | $2,700,000 | 13 | $0.40 |
| AVERAGE | $70,039,000,000 | 409.5 | $325.41 |