1) The White House has produced this video with a behind-the-scenes look at how a presidential visit happens.
It's a reminder of how orchestrated the life of a president is.
Yesterday, Gov. Tim Pawlenty made his first appearance at Minnesota Public Radio in 10 months, which is much less of a production. He showed up informally dressed — he said it was because he had spent the morning shoveling — and a half dozen or so reporters from other media outlets sat near a radio in a nearby office. Pawlenty had his aide with him and that was pretty much it. After the show, he talked to reporters in the MPR lobby, and left to go do whatever it is he felt like doing a day before the Minnesota Legislature begins its session.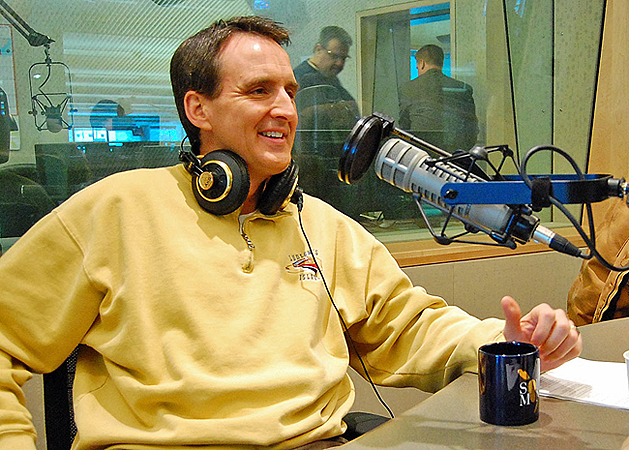 The governor denied — again — that he's made a decision to run for president. But he's making all the moves that suggests he is.
Politics aside, I always wonder whether presidential-hopefuls who don't come from the inner-Beltway mentality are prepared for the life of the White House, and whether they realize how impossible it is to stay connected to normal people with an unorchestrated life. You don't get to spend any time shoveling, you don't sit around shooting the breeze with radio hosts or reporters, and you don't get to wear a sweater without pundits pondering its meaning, You're a cast member in a show that never ends.
Maybe the governor is running for president; maybe not. Those of us in the news business look at the question from a political point of view. But there's also a personal one to be considered. When you become president — especially if you go to the White House directly from a state house — you and your family's lives end. That's a lot to ask of a family.
If the governor says he hasn't made up his mind about running for president, maybe that's why.
2) Between people on no-fly lists getting on planes with underwear bombs and financial regulators failing to see the obvious fraud of big bankers, we're due for a story or two about how government employees in important positions did their jobs. The Toyota story won't be the one, however. The Washington Post reports, "during a little-noticed 2007 inquiry, investigators found that at least three of every 100 Lexus ES 350 owners in Ohio reported experiencing unintended acceleration, an unacceptably high percentage given the potentially fatal consequences, industry experts said." But investigators never connected the dots to see how widespread the problem might be.
Meanwhile, some local car dealers are upset about Transportation Secretary Ray LaHood's answer to a congressional questioner. LaHood said people who drive the cars on the recall list should stop driving them. He later recanted. "It's irresponsible. This hysterical comment from Ray LaHood just wasn't appropriate to the situation," said Scott Lambert with the Minnesota Automobile Dealers Association.
But back to the government watchdogs. It's not as if they're doing nothing. Take a look at the vehicle recall list just for December. There are 12 pages of vehicles listed with various safety problems. None is getting any publicity.
Oh, by the way, you're next, Prius owners.
3) Maybe you're one of those people who gets tired of people complaining about winter in Minnesota. Here's one cure: Watch some of Chuck Olsen's videos from the Art Shanty projects. This is the last weekend on Medicine Lake for the projects. Let's see you find this sort of thing in Cozumel!
4) Want to appreciate the Minnesotans of the 1800's more? Read today's commentary (and story) regarding the North Shore communications interruption last month.
There is a good news side to this incident as well. Lots of people did lots of good work to minimize the potential impacts of this outage, but our local, volunteer-driven, independent public radio station, WTIP, deserves special mention. Throughout the day, it served as an essential relay for important information, such as the local, still-working telephone numbers quickly established as alternates to the defunct 911 system.
Is the problem that our technology that we depend on is too flimsy and vulnrerable? Or is it that we depend on technology too much?
Good Job, Technology Dept: A woman saved a man's life merely by watching the sunset on a Webcam 100 miles away.
5) A look at what the singers are doing to the National Anthem at ballparks and stadiums. "Treason," says a commentator on MLB.Com:
You don't have to be a super-patriot to be offended by what is being done to the national anthem of our Republic on a nightly basis. All you have to be is an American.

Here's the deal: The United States Marine Corps Band plays the national anthem in 1 minute, 13 seconds. This is the standard version of the anthem and we can safely move forward with the notion that the Marines know at what tempo the national anthem should be played.

Get out your watch with the second hand at the ballpark. You are going to hear renditions of the anthem that exceed two minutes. You are going to hear versions that go on for 2:30. Some even crowd three minutes. These versions could be sung by the greatest voices in the world — although that is clearly not the case in these examples — and they would still be wrong.
Wayback Machine time. It's 1968…
It's 1983. And Marvin Gaye makes the anthem sexy:
And they don't sing a national anthem at the Super Bowl anymore, without first thinking about Whitney Houston, circa 1991.
Carrie Underwood will sing the national anthem at the Super Bowl on Sunday. Don't get your hopes up.
TODAY'S QUESTION
The Minnesota Legislature convenes today, and it faces an immediate problem: How to erase a one-point-two-billion-dollar deficit in the current budget. What would you recommend to help reduce the state deficit?
WHAT WE'RE DOING
Midmorning (9-11 a.m.) – First hour: Toyota believes it's found a solution for the faulty accelerator pedals in some of its models, but new questions are being raised about how long it took to respond to the problem. Can a company that has touted the reliability and safety of its cars recover from this crisis?
Second hour: Writer Wells Tower searches for what drives people to do bad things. His new collection of stories features a range of troubled male characters and their complicated relationships.
Midday (11 a.m. – 1 p.m.) – Both hours: Live from the Capitol rotunda on opening day of the 2010 legislative session, Gary Eichten and Mike Mulcahy talk to the DFL and Republican legislative leaders and key legislators on the major issues of the session.
Talk of the Nation (1-3 p.m.) – First hour: What's next for the Pentagon's policy and Don't Ask, Don't Tell?
Second hour: Derek Monnig's wife makes double what he does. And a new Pew study says he's not alone: Men are increasingly likely to marry women with more education and income than they have. I'm Rebecca Roberts. The rise of the Alpha Wife considered.
All Things Considered (3-6:30 p.m.) – Some East Metro residents are upset about 3M's plans to take outside material to burn in its hazardous materials incinerator in Cottage Grove. The company wants to bring solvents from outside its own operations to burn in the incinerator. The state says pollution levels will be low. But some residents worry this additional work will add to environmental concerns based on contamination from old landfills. MPR's Stephanie Hemphill will have the story.
MPR's Tim Pugmire reports on the first day of the new legislative session.
NPR takes a look at a new documentary about "Soul Train."