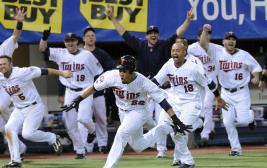 A gray, rainy day — at least where I'm siting here in Moorhead — lends itself to thoughts other than work. Perhaps you're still replaying last night's incredible tiebreaker game between the Minnesota Twins and the Detroit Tigers.
Perhaps you're thinking about tonight's game, now a little more than an hour away, wondering if the Twins can overcome their shortfalls against the Yankees this season (0-7) at least once, just to give the Metrodome two more chances to work its magic.
Perhaps you're as much of a pinstripe-pusher as the folks at the NY Times' Bats blog. They say, "Yankees in 3."
Well?