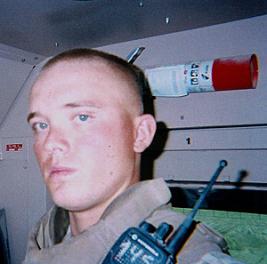 I'm sure Bob wishes he could have written this post, as it follows up on a story which, for quite a while, it seemed as though he was the only one following.
Briefly: Marine Pvt. Travis Hafterson has been diagnosed with PTSD — post traumatic stress disorder. He left the Marines to seek treatment in Minnesota, and was set to be voluntarily committed to a mental health facility. The Marines got to him first and he's currently in the brig in Camp Lejeune, N.C.
The Marines had not commented on the Hafterson matter beyond confirmed that he was in their custody, until today. Here is the full text of a statement from Marine spokesman Maj. Kelly Frushour.
Good Morning,

In late September and early October there was a spate of reporting by news agencies in Minnesota regarding the case of Marine Pvt. Travis Hafterson.

Much of this reporting centered on Hafterson's claims of suffering as a result of his deployments to Iraq.

Marines are trained in and abide by the Law of Armed Conflict and take any violations of these laws seriously. After reading statements in these news stories which alleged law of war violations (the alleged killing of a wounded Iraqi), the Marine Corps investigated the claims.

The result of that investigation concluded the following:

Hafterson was not present when a lieutenant in his command was wounded.

Hafterson did not engage in any combat while deployed.

Hafterson did not kill anyone while deployed.

Hafterson never fired his weapon while deployed.

Hafterson does not have a Combat Action Ribbon.

When returning from a deployment, Marines undergo a post-deployment health assessment. This assessment is an inclusive review of a Marines' combat experiences, living conditions and environmental exposures while deployed.

This assessment becomes a part of the Marines' medical record. Due to privacy concerns I cannot state the particulars of Haftersons' medical information but please know the Marine Corps is committed to the health and welfare of its service members and has myriad support resources available to

help Marines, Sailors and their family members.
MPR's Elizabeth Dunbar has the full story of today's response from the Marines, including reaction from Hafterson's side.
Pvt. Hafterson's attorney, Ron Bradley, said Thursday that he was "surprised and skeptical" of the Marines investigation, noting that a psychologist and psychiatrist in Minnesota had both found that Hafterson suffers from PTSD. Bradley also said Hafterson was part of an infantry unit, which he said makes it likely that he engaged in combat.

"Can I prove anything? No. I have no firsthand knowledge. Do I believe the military? No," Bradley said. "I believe my client."
You can read Bob's previous coverage here:
Sept. 30: Saving Pvt. Hafterson
Sept. 30: A mother's story
Oct. 1: 'We were so close.'
Oct. 2: One of thousands
Oct. 3: Our dereliction of duty