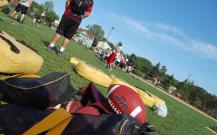 As districts struggle with declining enrollment, budget gaps and school closures, it's getting harder for large-class high school football teams to find opponents.
The Duluth News-Tribune reports on the troubles some northern Minnesota teams have had with trying to find not just opponents, but a conference to live in as well. As the North Country Conference is set to be dissolved, teams like Duluth East and Grand Rapids have had to resort to more trips to the Twin Cities to fill out their schedules.
"We're in limbo right now," said Grand Rapids coach Tim Botsford, whose team probably will be an independent in 2010. "We're stuck between a rock and a hard place. We've got Waconia, Richfield, Robbinsdale Armstrong and Farmington on our schedule just to fill it out."
Demographic shifts don't count for everything, as other smaller conferences lock the larger schools out.
Detroit Lakes, which remains on the other three North Country teams' 2010 schedules, will play as an independent next season. The Lakers will play four teams from the Eastern Dakota Conference during their bye weeks.

"We're still looking [for a conference], but nobody wants us," Detroit Lakes AD Mitch McLeod said. "We're very similar to Grand Rapids — we're a big enough school that nobody wants to play us, and it's very tough for us to get football games."
MPR's Tom Weber looked at which high school football programs moved up or down in the Minnesota State High School League's 5-class system, and the numbers tell the tale. Just seven schools moved up a class, while 26 teams moved down a class.
The state's continued population shift away from rural areas only adds to the problems on both ends. Small schools can face the choice of whether to even field a football team, while the consolidation of high school enrollment leaves larger schools fewer and farther between.