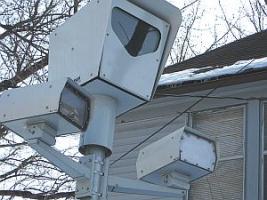 A Web site — trapster.com — has developed software for smart phones that will warn you when you're approaching an intersection where cameras record people who run red lights. The "photocop" in Minneapolis documented an apparent connection between people who run red lights, and the likelihood they borrowed the car from mom or dad. The camera was eventually turned off.
Reports WFAA in Dallas:
There is also a high-tech response to the ticket-generating robots. Several Web sites list locations of red light cameras. Trapster.com even has a new software program that puts the locations on a smartphone.

As the driver approaches an intersection with the cameras, the phone uses GPS location technology to make the connection and sound out a warning: "Red light camera."
If you can't afford the "high-tech response," you can try the low-tech version for free: Stop for the light.
Meanwhile, a suburban Chicago newspaper has run a series on the red light cameras and found that they work as advertised — they make intersections safer — but their benefit is obscured by another apparent fact: They're being used as income generators by cash-strapped cities.