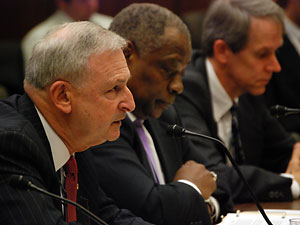 Mark Rosenker told President Barack Obama he's quitting the National Transportation Safety Board today.
At least in these parts, Rosenker was a controversial figure, partly because of his career in politics. He oversaw the NTSB investigation into the collapse of the I-35W bridge in Minneapolis. In the aftermath, he was the federal face of the bridge collapse.
He often clashed with Rep. James Oberstar during the bridge investigation.
He's the second board member in two days to resign.