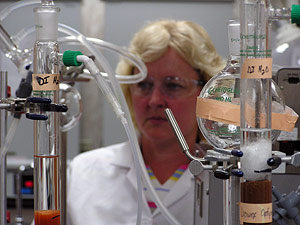 The blogs and bulletin boards are sure to be buzzing today with details of the University of Minnesota study on ethanol. It was billed in the Star Tribune as a study that showed corn ethanol no better than gasoline. That's true, but the substance of the study showed that cellulosic ethanol is.
According to a news release from the U, "the authors found that depending on the materials and technology used in production, cellulosic ethanol's environmental and health costs are less than half the costs of gasoline, while corn-based ethanol's costs range from roughly equal to about double that of gasoline." The full study won't be available online until next week.
Cellulosic ethanol is made from plant and tree fiber.
Two years ago, the same U of M researchers determined that ethanol "delivers 25 percent more energy than is used (mostly fossil fuel) in producing it, though much of that 25 percent energy dividend comes from the production of an ethanol byproduct, animal feed."
A company in Minnesota is testing cellulosic ethanol production and has been meeting with farmers to figure out a method of collecting the material that could be used. But the process may not be able to compete with grain-based ethanol in five to eight years, according to Minnesota Public Radio's Mark Steil.