The Bush administration's attempt to minimize photographs of the caskets of returning soldiers from Afghanistan and Iraq has often made it difficult to capture the stark reality of war: People die and the hearts of loved ones ache.
No picture better captured this than the photograph MPR's Bob Kelleher took at the memorial service for Matt Lourey, a pilot who died in Iraq when his helicopter crashed near Baghdad in 2005.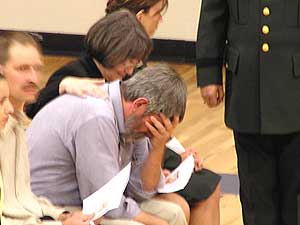 Gene and Becky Lourey, a former state senator and candidate for governor, raised a dozen children in Finlayson, Minn. Gene Lourey died in his sleep over the weekend, according to John Blackshaw, the general counsel for Nemadji Research Corporation, the software and system analysis firm the Loureys own in Bruno, Minn.
He and his wife worked on the Humphrey presidential campaign in Minnesota, after they moved back to the state from Washington. Gene Lourey was a codebreaker for the National Security Agency, and then worked at the University of Minnesota.