We're live-blogging today's event in Blaine. Feel free to add your comments.
11:22 a.m. MPR's Midday is providing a preview of the rally and a look at the strategy behind it. Listen here.
11:23 a.m. Interesting story on Politico about the press that follows the campaign around. What's the point of having press following everyone in an age of satellite feeds and campaigns that are only about public appearances?
11:25 a.m. – Caption contest!
No cliches allowed, but big points for reworked James and Bobby Purify lyrics.
11:31 a.m. — Musings while waiting for the plane to arrive. Dumb controversies of the election for $20. Allegation: Obama removed the American flag on his plane. Fact: No he didn't.
11:33 a.m. — Question #1: Don Lucia, coach of the Gophers' hockey team, is taking part in the rally. Should active coaches be involved in politics? What do you think, Mike Tice?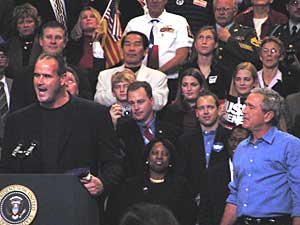 11:37 a.m. – The McMotorcade is near the airport. Why not just fly into the airport? The runway is less than a mile long. A 737-400 needs more than 8,000 feet.
11:41 a.m. – Rep. Michele Bachmann opens with "how do you feel about a pro-life mother of 5?"
Bachmann criticized Obama for "writing his second memoir," because one was not enough. One wonders if the representative knows that Sen. McCain also has two memoirs to his credit?
12:01 p.m. Palin speaking.
"I got a real good lesson in why they call this Minnesota nice…. getting to (accept the nomination) do it in the place where the Minnesota Wild play, that was pretty good."
That's the "play to the locals" line. Yesterday in Wisconsin it was:
"Palin told the crowd she felt at home in Wisconsin, "a state where people appreciate good hockey, good huntin', good fishin' and great football."
Still, the Twins are in the middle of a pennant race. Can't they get any love?
12:04 p.m. Odd shift in focus. She talks about the dangers of Iran nuclear program. It's actually a shot, though, at Hillary Clinton, who pulled out of a "Stop Iran" rally. But it was organizers who disinvited Palin so it wouldn't end up a political event, according to the Washington Post.
Said Politico:
But the appearance that the non-partisan group was aligning with the Republican ticket put the group and its president, Malcolm Hoenlein, under heavy pressure from Jewish Democrats, including members of the conference, members of Congress, and the liberal group J Street, not to give Palin a platform, sources said. Hoenlein told the McCain campaign that he would have to rescind Palin's invitation or cancel the rally.
12:07 p.m. Palin on the shake-things-up theme.
12:08 p.m. "We'll never forget we're there to work for you. It's about you. I've never forgotten who I'm accountable to." She says she'll have new responsibilities as VP: government reform, energy independence and special needs kids.
Checking to see Palin's records on special needs children before she had one earlier this year. But it wouldn't take much to change special needs education in the country. All she had to do is get the administration and Congress to provide the funds for it they'd promised to fund when they made state mandates.
It's been a bipartisan problem. Both parties in Washington have refused to fully fund the mandate.
12:15 p.m. Fact check: "As governor, I've fought for increased funding for special needs children."
This site says that's not true. But the '07 budget provided in the pdf showed it was.
However, in the '08 budget in Alaska, special needs funding was cut and the '09 budget showed no increase in funding.
12:18 p.m. Sen. McCain now speaking.
12:18 p.m. – "Change is coming and my friends on Wall Street may not like it," he said. "The dominoes that we saw fall this week were because of … the abuses that took place within our home loan agencies — Fannie Mae, Freddie Mac. Those are the culprits as to how this began. Two years ago, I called for the reform and Congress did nothing, the administration did nothing, Sen. Obama did nothing and he profited from this scandal."
These are the strongest words yet from McCain tying Obama to the failed Fannie Mae, Freddie Mac, and points out the CEO of one led the Obama VP selection committee.
It's part of a new ad campaign for McCain.
The Washington Post fact-checked the claims:
The McCain campaign is clearly exaggerating wildly in attempting to depict Franklin Raines as a close adviser to Obama on "housing and mortgage policy." If we are to believe Raines, he did have a couple of telephone conversations with someone in the Obama campaign. But that hardly makes him an adviser to the candidate himself–and certainly not in the way depicted in the McCain video release.
12:23 p.m. "Sen. Obama voted 'present' over 100 times. When you're president, you don't get to vote 'present.'
12:24 p.m. Says Joe Biden says raising taxes is patriotic. Here's what he's referring to:
12:25 p.m. Up to fairly recently, McCain's public speeches have been delivered in a fairly bland manner. He's much more feisty today, and is much better than even two months ago. He's been working with a speech coach. The Times noted the same thing the other day. He still rushes to get to the punch lines today… often continuing to speak after the cheers have drowned him out.
12:28 p.m. – New York Times today: "The Votes are in the Suburbs."
12:30 p.m. "You have my word, I will always put my country first," McCain said. Thousands of "Country First" signs are present.
12:31 p.m. – McCain repeating the story of the woman from Ladysmith, Wisc., who gave him her son's dogtags. He was killed in Afghanistan.
Today he cited Sgt. John Kriesel who gave him his battle coin. Here's the story of the soldier from Vadnais Heights.
12:34 p.m. – Speech is over, the country music is playing.
12:36 p.m. – In 2004, it seemed, Kerry and Bush matched each other for appearances in the state, one always closely following the other. This year? Maybe, although Obama hasn't been here since early August. Obama was in Coral Gables, Florida today, and is staying in the state tomorrow. VP candidate Joe Biden seems to be staying in the Atlantic states.
According to electoral-vote.com, Obama trails McCain in traditional-Republican Florida by 3 percentage points. And Virginia, where Biden has been working, has also swung red.
By contrast, McCain and Palin are, at least this week, working states where Obama has a slight lead.
12:50 p.m. – All in all, I'd have to say the strategy of tying the financial meltdown to Obama was the takeaway from the event. Taking away the obvious (and typical of politicians) attempt to make the connection a little more direct than it actually is, it does raise an interesting question, doesn't it? Do campaign contributions influence oversight?
According to OpenSecrets.org, Sen. McCain's contributions are a who's who (or who was who) of the financial mess:
Merrill Lynch $298,413
Citigroup Inc $269,251
Morgan Stanley $233,272
Goldman Sachs $208,395
JPMorgan Chase & Co $179,975
AT&T Inc $174,487
Blank Rome LLP $150,426
Credit Suisse Group $150,025
Greenberg Traurig LLP $146,787
UBS AG $140,165
The same is true for Barack Obama:
Goldman Sachs $691,930
University of California $611,207
Citigroup Inc $448,599
JPMorgan Chase & Co $442,919
Harvard University $435,769
Google Inc $420,174
UBS AG $404,750
National Amusements Inc $389,140
Microsoft Corp $377,235
Lehman Brothers $370,524
The other continuing theme that the crowd more than the candidates got into was "drill, baby, drill." The Wall Street Journal blog had an interesting take yesterday on falling oil prices: oil companies are less likely to invest in exploration if oil prices are dropping.
Two subjects worthy of discussion.
1:23 p.m.: Neat e-mail from an MPR listener:
Thank-you for your radio coverage on 91.1 of the McCain/Palin rally. We were there and it was crowded. We could hear ok, but it was hot and with my three children we decided to head out and listen to it on the radio. I was so glad you had it on. I applaud the McCain/Palin campaign for doing their best in Minnesota. I was actually shocked to hear MPR covering it so well. THANK-YOU! A very proud AMERICAN, Homeschool, Hockey and conservative Mom..