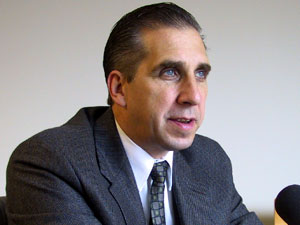 The Ramsey County Sheriff is suddenly in the spotlight for orchestrating raids, days before the Republican National Convention was to begin. This is after one Twin Cities mayor, visiting Denver, which had a very heavy police presence, promised a more "low key approach."
In a news release today, Fletcher defended the raids on the RNC Welcoming Committee:
The "Welcoming Committee" is a criminal enterprise made up of 35 self- described anarchists who are intent on committing criminal acts before and during the Republican National Convention. These acts include tactics to blockade and disable delegate buses, breaching venue security and injuring police officers. They have recruited assistance in their criminal conspiracy from other anarchists groups throughout the country. Through their plans and actions they have exhibited a blatant disregard for the law and the safety of others
The raids have launched Fletcher into the spotlight, but the raids are not his first encounter with controversy.