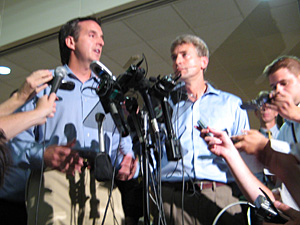 Gov. Pawlenty and Mayor Rybak announced the official I-35W bridge anniversary events today:
Interfaith Prayer and Memorial Service
August 1, 2008
11:00 a.m. – 12:00 p.m.
Basilica of St. Mary
88 N. 17th Street
Minneapolis
Free parking will be available in the Minneapolis Community and Technical College parking ramp just east of the Basilica.
Outdoor Memorial Ceremony
August 1, 2008
4:30 p.m. – 6:15 p.m.
Gold Medal Park
10th Avenue South and S. 2nd Street South