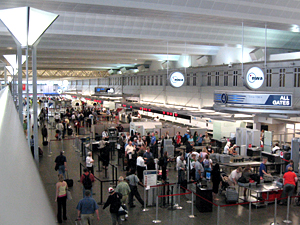 Feel a bit sheepish getting all defensive over the Minneapolis-St. Paul Airport being cited as the worst "big city" airport by J.D. Power and Associates. That should help convince Delta to keep MSP as a hub, eh?
I'm not entirely sure what the beef is that people have with the airport, when considered separately from the cattle company that operates an airline there. Just a few weeks ago it took me all of 3 minutes from the time I entered the security line to the time I finally convinced the TSA agent that it really was an iPod, and not a SAM missile launcher remote control.
Earlier in the week, I dropped someone off at the kiss-and-go spot and was back on I-494 within seconds.
I can park, wait at the baggage area, pick people up, and jump back in the car for only a $3 fee. It's generally bright, there's shopping options, rest rooms aren't too far away, it's pretty easy to check in with the electronic gizmos, and those flower baskets along the roadways that are watered automatically are pretty cool, too.
Granted, I'm not a huge fan of airports — except for general aviation airports, but that's a different story — but there are worse joints to fly out of.
Of course, I'm not a business traveler, whose opinions were the only ones that mattered to the Powers folks.
So, what's the problem? It's hard to tell but we learn a little bit from the press release/Web site that goes along with the survey, which says:
* Airlines put 14 percent more planes in the air onto a flight route system that hasn't changed since the 1950s.

* Flight delays soared to their highest levels ever and the late arrival rate was the highest since 1996.

* Fares went up.

* More flights were cancelled than in any year since 2001.
None — or very few — of those things, of course, has anything to do with the airport. Those are factors involving airlines.
Yet, according to the news release accompanying the report, there's a focus on airport facilities.
"When air passengers are forced to wait out delays in airports for departing flights, they are essentially a captive audience, and their frustration and stress levels affect their satisfaction with airport operations and amenities," said Jim Gaz, senior director of travel and entertainment at J.D. Power and Associates. "Those airports that are best equipped to handle delayed passengers with comfortable seating, a variety of food and beverage options and restrooms located near departure gates are the ones that will perform better in customer satisfaction in these trying times. When delayed passengers arrive at their destination airports, they are seeking efficient service at baggage claim and an expedient exit. Any additional inconveniences will only compound their dissatisfaction with the airport experience."
Clearly I'm missing something serious in the failings of our local hub. And I know there are many bigger shots than me who read News Cut and travel more extensively. What's your favorite and least favorite airport?