Those predictions of $4 a gallon gas prices don't appear quite so radical anymore. Late yesterday, the price hit $3.35 a gallon in the Twin Cities, according to the gasprices.com Web site. Yeah, that's a record.
Step into the Wayback Machine. It was the evening of the September 11 attacks on the United States and drivers were shocked by an unbelievable jump in the price of gasoline, double and triple the price that was posted on the drive in to work that day.
The price?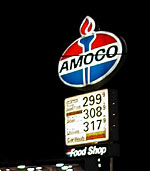 $2.99? We'd line up for blocks to pay that now. Back then, however, it unleashed the bureaucratic guns.
OK, now, here's what I'm looking for. People who ride their bikes to work. People who ride their bikes a long way to work; the kind of route that leaves you a stinking mess by the time you get there. I feel a "three minute tale" coming on about you. So e-mail me, if you'd like some slow-pedaling, journalistic (sort of) company some morning.