(MPR's Tim Nelson sends this along)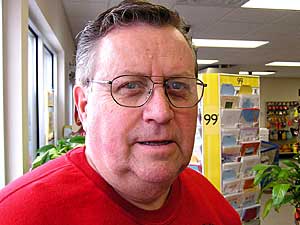 Joe Corcoran is back in town.
Unfortunately.
The legendary police commander headed the crimes against persons unit in St. Paul for many years, through high-profile cases like the a Lawson Avenue firebombing that killed five small children and the slayings of two officers in 1994.
He retired in 1999 and moved to his vacation home in the Red Lake area. But he's hospitalized at St. Joe's these days, brought down, he suspects, by a recent fall on the ice. He's being treated for what doctors feared could have been a life-threatening head injury.
Publicly, he might best be remembered for nearly always getting his man, even if it took a while. Some of the city's most infamous crimes occurred, and were solved, on his watch.
But he helped lead a quieter revolution, as well, in the city's old Public Safety Building.
As a crime-lab supervisor Corcoran helped bring in some of the first digital fingerprinting equipment. The machines helped transform forensics from an academic exercise into a real-time crime fighting tool.
Perhaps more important, though, were Corcoran's "soft skills." He tried to give as much care to the survivors of violent crime, both victims and next of kin, as he did to the crimes themselves. The sergeants on his squad were as boiled as anybody, just not quite so hard.
Neil Nelson was among them.
"That's his real legacy," said Nelson, who's still on the force. "Once Joe made the commitment to reaching out to these victims and their families, it made just an incredible difference," he said.
Cops had traditionally kept their cases closed even to next of kin, for fear of showing their hand to perpetrators. Nelson said Corcoran welcomed families when he could. "He offered them not just some information, but some peace," said Nelson today. "And while Joe may have done it initially out of compassion, it really did make a difference." Nelson considers it a key to the investigative success of Corcoran's unit.
Bill Finney, his former chief, said he may have been the best detective commander St. Paul has ever had. "It's because of the way he did things that we had such success," he said, reached in Detroit. "He just threw everything he had at every new homicide, and that's usually why we got them solved. Or at least knew who did it…. Whatever he asked for, I gave him."
Corcoran has since gained yet further prominence for helping revive the Upper Red Lake Association to promote wildlife conservation and bring back tourists to the area after overfishing wiped out the walleye on the lake in the mid 1990s.
You can read about his second career here.
Hopefully, he'll soon bid goodbye again to St. Paul and get back to his second life's work.