This post has been appended with additional information.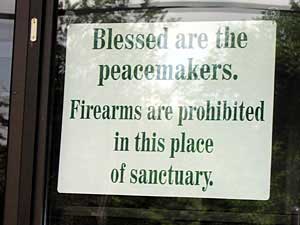 In the wake of Sunday's killings in Colorado, Chuck Chadwick's phone has been ringing steadily. In between calls from reporters, there's the occasional church calling to find out how to beef up security. That's the former cop's job now, as head of security for one of the largest churches in Texas, and owner of a company, National Association of Church Security & Safety Management, that advises churches.
Most of them are megachurches. "We have massive control rooms and video surveillance and plainclothes people and bodyguards," Chadwick told me this afternoon, adding he tries to keep things inconspicuous. But he says the need for such things existed long before last weekend's shootings. "We've had down through the years… mass murders. We had Wedgewood in '99, the guy up in Wisconsin, the guy in Sash, Texas and now this. It doesn't really surprise me. I think what it's brought to light is that church needs to have armed people … in a role. We see a lot of churches sometimes that say, 'Oh yeah, get old Bubba over there with his concealed weapon permit and he can be our bodyguard and shoot anybody.' Well, there's various state regulations and licensing regulations that need to be followed and we help them with that."
Here's the highlights of the interview:
"You can't stop it from happening, you can only limit the scope." (Listen – MP3)
His message to churches that are reluctant to allow guns. (Listen – MP3)
Not surprised by Colorado (Listen – MP3)

The extent to which Minnesota churches are listening is unclear. Megachurches Eagle Brook (the largest church in the state), Mt. Olivet Lutheran Church, and Eden Prairie's Grace Church have not yet returned messages,
At Living Word Church in Brooklyn Center, a megachurch that boasts 8,000 members, I was referred to the "security department," which at least told me they had one.
"We've got it covered, but that's all I'm going to say," said the man in charge of security.
A Star Tribune article today suggested local Catholics are at least thinking about it.
"Maybe this is a wake-up call," said Dennis McGrath, director of communications for the Catholic Archdiocese of St. Paul and Minneapolis. "An attack during a service is just such an aberration that we don't even think about it. We have crisis plans ready for other things, like natural disasters. Maybe it's time that we need one for this, too."
Churches and guns have been an uncomfortable mix in Minnesota. A couple of years ago, an Edina church challenged the law allowing people to bring guns to church unless a sign (above) specifically banned them. A judge agreed in a 2006 order, but churches may not ban guns from their parking lots.
Update Weds 7:52 a.m. – Fargo Forum newspaper surveys churches in its area on the subject.
Update Weds 10:02 a.m. – Tom MacNally, the chief operating officer at Mt. Olivet Lutheran Church, the largest Lutheran church in the region with 13,000 members, says the church has four police officers handling traffic, who also are available once worship service begins. But "if someone comes in with a rifle, we don't have a procedure for that," he said. The church, however, has established a lockdown procedure. In fact, MacNally says, the signs describing a lockdown process are being put up today. He says the church did not get involved in the challenge of the concealed carry law because church officials were sensitive to being involved in a political stand on the issue, and because posting against handguns would have required the church to check all of those attending church to be sure they weren't carrying a gun.
Update Weds. 1:01 p.m. Eagle Brook Church spokeswoman: "We don't divulge our security arrangements."