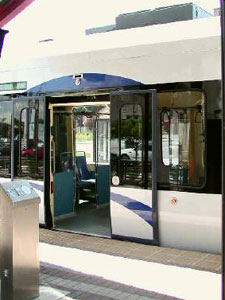 Twin Cities, you're no Los Angeles.
The New York Times reports today that Los Angeles is ending the honor system of fares, after finding 5 percent of riders don't pay.
"Unfortunately, as L.A. gets to be more urban, it has these breakdowns of trust that happen in big cities," said Joel Kotkin, a Los Angeles resident and author of "The City: A Global History." "It's the flip side of all the good things."
The honor system is the same one used on the Twin Cities' light-rail line.
"Fare compliance on the Hiawatha Line is 99 percent. Fare compliance is a mathematical calculation of the number of citations/warnings issued by transit police divided by the number of customers checked. Transit police check about 20 percent of riders," Bob Gibbons of Metro Transit said in an e-mail response this morning. Though you have an 80-percent chance of riding free, 99-percent of you pay the fare.
Gibbons also reports the post-bridge-collapse ridership bounce on Metro Transit continued into October, the latest month for which statistics are available. The 7.2 million rides in October (up 4.3 percent from a year ago), was only the second time in 25 years that ridership exceeded 7 million. August, immediately after the collapse, was the only other time.
Incidentally, the new park-and-ride lot at I-35W and Industrial Boulevard, opened to no fanfare this morning. Metro Transit wasn't sure the contractor would have it opened by today's target.
"Over the next couple week we will have a direct mailing to the homes of those north of the area, and we will place ads in nearby community papers. We also will communicate with our riders from Rosedale (Route 260). Route 241 may be of interest to them given the congestion and parking shortages (we are over capacity in the park-and-ride portion of the Rosedale lot) around Rosedale during the holidays," Gibbons said.