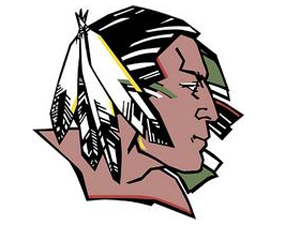 Ground zero in the ongoing battle over the use of Native American names and images for sports teams is North Dakota.
The University of North Dakota is trying to hold onto the Fighting Sioux name and logo, against an onslaught of opposition from the NCAA. But the logo is likely doomed.
A study in this month's Sociology of Sport Journal ($) found substantial opposition to the name and logo. The study, conducted by a UND grad, shows "overall support for the nickname declines the longer students attend UND and found no significant difference in opinions between American Indians from different tribes," according to the Fargo Forum.
UND's introspection comes primarily as the result of an NCAA ruling that prevented it from hosting postseason play as long as the name and logo exists. A recent settlement of a subsequent lawsuit gives the university three years to get permission from the Standing Rock tribe to use the name and logo, or find a replacement. So far the tribe has said "no."
For the most part, we're talking hockey here. And when you're talking hockey at UND, the spotlight is on the Ralph Engelstad Arena, an arena that is festooned with the logo. The cost to remove it, the Forum reported yesterday, would be about $1 million.
The state's Board of Education will meet on Thursday to discuss the logo and name. Even that meeting has controversy to it. The band has said negotiating with a lower-level government entity or university is beneath "their station as a sovereign nation."