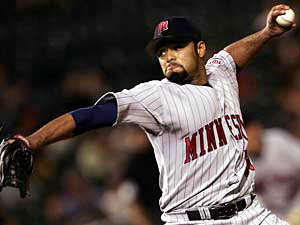 Et tu Johan?
Major League Baseball's Web site reports tonight that the Minnesota Twins and New York Yankees are talking trade over Johan Santana. It's pretty clear the Twins can't afford won't pay Santana's asking price when his contract is up after the '08 season.
The new stadium was supposed to allow the Twins to be more competitive. But, the Yankees are building a new stadium (and hotel complex), too. So, perhaps, they get to be more competitively competitive.
One can make an argument that letting Torii Hunter go last week was a smart baseball move. He's good, but he's not that good. No such argument can be made against Johan Santana. He's among the best, and projects to be among the best for the duration of however many years he's asking for in the next contract.
So why trade him?
Let's go back to April 2007, when Hennepin County commissioners OK'd a land acquisition agreement for the stadium.
"It's a fair document, and it will allow the Twins to be competitive in Minnesota, and to build a world-class outdoor ballpark," said Twins president Dave St. Peter.
In an FAQ on their Web site, the Twins address the competitive question:
First, the Twins have a proven baseball organization that has demonstrated the ability to field competitive teams with limited resources. The incremental revenues generated by a new ballpark should help stabilize the franchise and provide the team with additional resources to be competitive.
Stabilize the franchise is baseball-talk for "we won't let our best players walk so often."
Hunter is gone and Santana will likely be traded this off-season because (a) the Twins don't want to let another star leave via free agency without getting something for him (b) they don't want to pay the money and (c) letting a player leave before the stadium is built — like right now — makes the obvious public relations problem slightly less obvious.
But that doesn't mean they don't have one, because as Fanhouse notes, $20 million a year for a team's superstar player is nothing in today's baseball economy. Santana is already making more than $13 million, which the Twins were able to afford playing in an old ballpark, with lousy revenue streams.